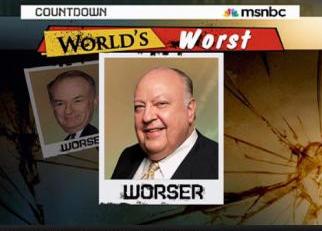 One week after news of a supposed "truce" (or "ceasefire" or "deal" or…) between GE/NBC and News Corp./Fox, it's clear the deal has passed away.
Following Keith Olbermann's strong attack on Bill O'Reilly, Roger Ailes and Fox News in general again Friday night (video after the jump), and another story about in-house tensions at 30 Rock, it's time to talk about the supposed 'truce' in the past tense. So what killed it?
According to the New York Times' Brian Stelter, it all started to deteriorate, as one might imagine, after Monday night. "Fox News executives felt that MSNBC had broken the deal when Keith Olbermann, in an apparent show of independence, insulted his 8 p.m. rival, Bill O'Reilly, and the News Corporation's chairman, Rupert Murdoch, on Monday," writes Stelter.
O'Reilly responded, in a way, with his attack on GE two nights later. But in Stelter's story, Fox says it's not about them:
"At this point," a Fox spokeswoman said Friday, "the entire situation is more about major issues at NBC and G.E. than it is about Bill O'Reilly and Keith Olbermann."
So that puts the pressure on Olbermann and his bosses to stop their personal attacks. Which, to the detriment of salvaging any remnants of a deal, was not heeded last night. Instead, Olbermann set his sights on O'Reilly, but also, oddly, Fox Chairman Ailes. The basis for the attack was essentially something written about Ailes by the Washington Post's Howard Kurtz. "Negotiating with the people that his 'nutcases' might cover about whether or not those nutcases will or will not cover them might seem like journalism to Mr. Ailes, but clearly no actual journalist would agree with him," said Olbermann last night.
Does Olbermann not see the hypocrisy here, or is he just hoping his viewers don't notice? This is the exact same situation he himself is in. In the Times story today, both GE and FOX said the deal did not involve telling their talent how to cover stories. It's a matter of how each network, and host, deal with this non-directive directive.
It's clear what happened here: in the wake of the news going public, Olbermann reacted defensively by going on the offensive. O'Reilly responded, and Olbermann, still being questioned in the liberal blogosphere, went back and attacked. Here's what will happen next: O'Reilly will attack GE next week. And the story of the deal that was, then wasn't, will disintegrate.
But GE will not be happy. Will they be unhappy enough to officially rein in Olbermann, who essentially killed this deal and isn't necessarily afraid to quit if he doesn't get his way? We'll see. Olbermann is still the top-rated host on MSNBC. He doesn't pull in anywhere near the ratings of O'Reilly and others at Fox News, but he has a built-in, loyal audience. Now that he's "going rogue," GE will have to decide whether they're with him or against him.
Here's Friday night's "Worst Persons":
—–
» Follow Steve Krakauer on Twitter
Have a tip we should know? tips@mediaite.com