MSNBC's Now Parodies Itself With Tortured Claim Boston Bombers Were Right-Wing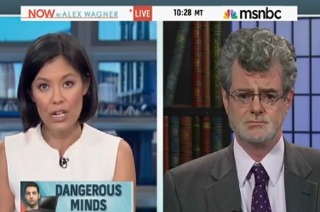 If someone designed a computer program that randomly generated nuggets of liberal conventional wisdom, MSNBC's Alex Wagner could sue them for violating her intellectual property. In a segment on that cable news network's hour of bias confirmation, the Southern Poverty Law Center's Mark Potok, spokesman for a group Floyd Lee Corkins admitted had motivated him to kill as many people at the Family Research Council as he could, alleged that Tamerlan and Dzhokhar Tsarnaev were motivated to their act of terrorism by conservative thinkers. They laughably centered this claim on the fact that the elder Boston Marathon bomber was partially influenced by Alex Jones – a conspiracy theorist slash entertainer without a political home. But this panel segment also displayed flagrant, and intentional, intellectual dishonesty by ignoring the bombers' other sources of political influence.

Perhaps the summer lull is to blame for Now's decision to broadcast a segment about racial animus motivating the American right in for umpteenth time. Perhaps it is a psychological compulsion. No matter. To summarize the predictable segment below, Potok alleged that the Tsarnaevs were motivated to their bloody act of terrorism by Jones' unhinged rants. This led the panel to decry the rise of racism in America which has followed the political ascension of President Barack Obama.
Judging by this segment alone, one would suspect that there is no investigative reporting into what actually motivated the Tsarnaevs. In fact, there is a wealth of journalism which would inform that conversation – that is, if informing had been the objective.
While Tamerlan Tsarnaev was a "fan" of Jones, he was also a fan of that centuries-old piece of anti-Semitic propaganda, The Protocols of the Elders of Zion. He called the work a "good book."
The elder Boston Marathon bomber was, of course, deeply involved in the Islamic religion, jihad, martyrdom, and opposition to the American wars in Iraq and Afghanistan.
"Once known as a quiet teenager who aspired to be a boxer, Tamerlan Tsarnaev delved deeply into religion in recent years at the urging of his mother," The Wall Street Journal reports. "Tamerlan quit drinking and smoking, gave up boxing because he thought it was in opposition to his religion, and began pushing the rest of his family to pursue stricter ways, his mother recalled."
Over the past two years, Tamerlan became more confrontational about his religion, engaging in arguments with other worshipers at a Cambridge mosque he sometimes attended, according to a mosque spokesman and worshipers there.
In fact, about the only evidence that Tsarnaev was motivated by "right-wing literature" comes from a BBC documentary which investigated the elder bomber's affinity for conspiracy theories – like those which claim the Oklahoma City bombing and the events of September 11, 2001, were orchestrated by the American government.
It is a stretch to suggest that the members of the 9/11 Truth movement, which ceaselessly alleged that President George W. Bush's administration was behind those attacks, is "right-wing." But that is what suffices for cogent political analysis in the noon hour.
This segment hardly merits debunking. It is laughable on its face and would not be worth a mention but for the fact that so many bright and accomplished journalists, politicians, legal analysts, and opinion leaders seem to view MSNBC's Now as an appropriate venue to appear on. They validate irresponsible topics of discussion like the one above with their appearances. Segments like these should make the venerable guests who agree to share their insights with Wagner's audience think twice.
—-
> >Follow Noah Rothman (@NoahCRothman) on Twitter
—-
Image via MSNBC
Have a tip we should know? tips@mediaite.com