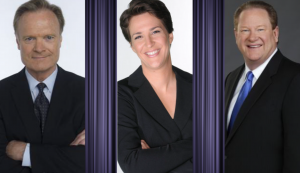 It's been more than a month since the Keith Olbermann era came to a close at MSNBC, and the rumors of the network's post-KO demise appear to have been significantly exaggerated. An analysis of the network's ratings through February shows some losses, but some significant gains as well. Overall, network execs believe they've weathered the storm well, with minimal evidence that Olbermann took his audience with him when he left.

At 8 p.m., where Olbermann's Countdown was one of the network's most successful programs, ratings in the first few weeks with Lawrence O'Donnell dropped by about 22 percent versus Olbermann's performance in the fourth quarter of 2010. But O'Donnell's Last Word has regained some of that lost ground, ending February solidly in second place behind Fox News, with a loss among total viewers of just 2 percent versus Olbermann's last month in January.
Meanwhile, at 9 p.m., Rachel Maddow has clearly picked up viewers, growing her audience from its Olbermann levels. In the immediate weeks after the demise of Countdown, The Rachel Maddow Show saw no significant or noteworthy dips in ratings, and since then she's at times steamrollered CNN's Piers Morgan with huge ratings among viewers 25-54. On February 18, Maddow beat Morgan by more than 100,000 viewers in the demo, propelling her show to its highest average ratings in nearly two years.
At 10 p.m., criticism that Ed Schultz would be a poor fit for the late hour of prime have proved wrong in terms of viewership, as The Ed Show has remained exceptionally competitive against CNN's AC 360 and even Fox News Channel's Greta Van Susteren. As we've reported, this is one of the most interesting timeslots in cable news, and Schultz is very much in the fight.
Have a tip we should know? tips@mediaite.com