NBC/MSNBC All-Stars Exclusively Report On Last US Combat Troops Leaving Iraq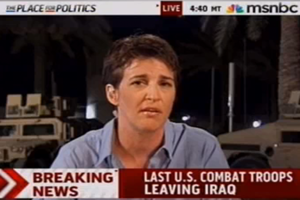 Now we know where Rachel Maddow has been hiding these past few days: Baghdad. The MSNBC primetime star traveled to Iraq, along with embedded NBC reporter Richard Engel, to deliver an exclusive report on the final American combat troops leaving the country. Back home, Chris Matthews, Keith Olbermann, and Lawrence O'Donnell rung in the special occasion.
While 50,000 non-combat troops will remain in Iraq to help rebuild the nation's infrastructure and train the Iraqi military, this marks the definitive end of American military combat. The coverage began on NBC Nightly News, with Richard Engel breaking the story there. Engel was embedded with the troops themselves in the "Bloom-mobile," the truck used by late NBC journalist David Bloom, who died suddenly reporting from Iraq (video from NBC's coverage with Brian Williams here. Meanwhile, the networks primetime mainstays discussed the meaning of the departure with Assistant Secretary in the Bureau of Public Affairs P.J. Crowley on MSNBC.
Meanwhile, Maddow reported from Iraq, being sent there early with very little word (substitute host Chris Hayes promised she would be back today without specifying from where). It does seem that some people within 30 Rock knew what Maddow was up to (and it leaked a few days ago, albeit with some measure of incredulity– h/t to Anthony De Rosa), but nonetheless the swiftness and extent of the coverage is surprising.
Below, Rachel Maddow explains how she quietly hopped across the globe to cover the story, Richard Engel delivers a very moving interview with a soldier definitively leaving Iraq, and, below that, the initial story breaking on NBC Nightly News:







Have a tip we should know? tips@mediaite.com