MSNBC Analyst: There's a 'Well-Known Series' Just Like What Happened to MH370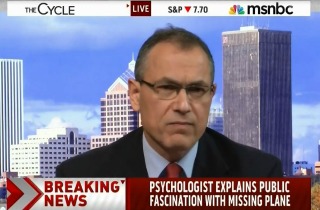 With more than two weeks having elapsed since Malaysian Airlines Flight 370 went missing, there are virtually no new details available to justify virtually round-the-clock coverage of the missing plane across the major cable networks. So, in order to keep the coverage going, a variety of network have taken to airing segments informing their audience about why they are so interested in the round-the-clock coverage of the missing plane.
This type of defensive segment has aired on each of the three cable news networks ranging from the scientific to the sanctimonious. But one on MSNBC on Friday brought something verging on the new to the table. On MSNBC's The Cycle, Rochester Institute of Technology professor of psychology, Dr. Nicholas DiFonzo, positied a theory about why there was so much interest in the story surrounding the missing plane. He said that this story is one to which almost anyone can relate. In fact, it reminds him of a "well-known series" that aired on ABC not that long ago… Maybe you've heard of it…
"I think also that this story is eminently relatable. It's eminently comprehendible," DiFonzo told the MSNBC hosts. "The idea of a plane going down in a remote part earth and it has — excuse me, not necessarily going down, a plane disappearing — in a remote part of the earth is a well-known narrative. It's a well-known story."
"There used to be the television series, Lost, that was very popular," DiFonzo informed the viewers. "And, when I first heard this story, that television series narrative leapt to my mind."
See? Psychology professors are just like you. It's a disappointment, however, that DiFonzo and the hosts of The Cycle did not share their favorite plotlines from the hit ABC series. That would have added some compelling new value to a story that dominates vastly more airtime than it merits.
Watch the clip below via MSNBC:
[Photo via screen grab ]
— —
> >Follow Noah Rothman (@NoahCRothman) on Twitter
Have a tip we should know? [email protected]