MSNBC Anchor And GOP Spokesperson Get In Heated Yelling Match Over Romney's Private Bundlers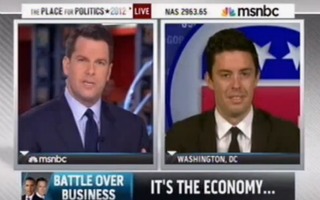 Republican National Committee Deputy Communications Director Tim Miller joined MSNBC anchor Thomas Roberts on Thursday to discuss GOP presidential candidate Mitt Romney's latest ads attacking President Barack Obama. Roberts grilled Miller on Romney's withholding of the names of his bundlers and raised his voice when Miller refused to answer if Romney planned on revealing those names before the election.

RELATED: MSNBC's Thomas Roberts And RNC's Reince Priebus Battle Over 'War On Women'
Roberts asked Miller about the Romney campaign's charges that companies like Fisker Automotive received a taxpayer funded loan to build cars in Finland. The Romney campaign claimed that loans to firms like Fisker were expedited because they are linked to individuals who served as bundlers for President Barack Obama in 2008.
The Washington Post gave four Pinocchios to Romney's "crony capitalism" claim for a number of reasons. The automotive firm is only partially owned by one of Obama's bundlers, the other partner regularly supports Republicans. Furthermore, like the defunct solar panel manufacturer Solyndra, the loan application was submitted during the Bush administration and only approved under Obama.
Roberts asked Miller why the Romney camp has not disclosed their own bundlers while the President has. Roberts said that if Romney wins the presidential election, ostensibly, he too could engage in crony capitalism that Romney alleges Obama has doled out to his supporters.
"Is the RNC saying that Mitt Romney is going to be releasing his bundler information now because they're able to use President Obama's bundler information against him," asked Roberts.
Miller corrected a number of assertions that Roberts and the Washington Post made and cited Congressional Democrats who have lamented that firms like Fisker are creating jobs overseas with American tax dollars.
Roberts pressed Miller on Romney's bundlers and asked if Romney would disclose it – when Miller did not offer Roberts and answer, Roberts charged that Romney is engaging in "hypocrisy."
"All of Mitt Romney's donors are public just like all of President Obama's donors are public," said Miller. "So, you're not comparing apples to apples here, Thomas."
The argument between Miller and Roberts bordered on a yelling match over who was serving as a bundler for Mitt Romney.
Roberts asked two more times whether Romney would make his bundlers public knowledge – Miller again said that Romney's donors, like Obama's, were already public knowledge.
Watch the segment below via MSNBC:
> >Follow Noah Rothman (@Noah_C_Rothman) on Twitter
Have a tip we should know? tips@mediaite.com