MSNBC Anchor Asks Meghan McCain If It's Easy For Her To Be GOPer Being 'Well Off, White and Blond'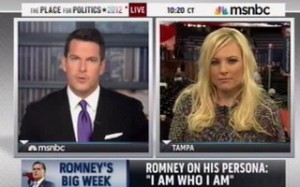 In a segment with MSNBC anchor Thomas Roberts, Meghan McCain was asked for her thoughts on just how big a tent the Republican party presents to demographic groups that do not support the party in great numbers, specifically women, African Americans and LGBT Americans. McCain said that she loves the party, but thinks they do need to be more inclusive. Roberts followed up on that, asking if McCain feels more welcome because she is wealthy, white and blond.

In the segment, Roberts wondered how successful Mitt Romney can be at portraying himself as someone who can appeal to the average American, given that he is trying his best to shake the impression that he is a "rich guy."
Roberts played a clip of Romney and his wife telling Fox News Sunday's Chris Wallace that they love the wholesale outlet Costco. McCain said she believed that that was a humanizing moment that would aid Romney's efforts to appear more average.
"How many Americans who shop at Costco have a Swiss bank account," asked Roberts.
"I don't think very many but Americans will have to decide if that is an issue that matters for them," said McCain. "To me, it obviously doesn't."
Roberts pivoted to the news that former Florida Gov. Charlie Crist will address the Democratic convention next week after endorsing President Obama. Roberts then played a clip of former Florida Gov. Jeb Bush offering a mild admonishment of the Republican party, saying that they need to be aware of the nation's changing demographic and appeal to broader groups of voters.
Roberts listed a number of groups he believes are disenfranchised by the GOP and asked McCain how they can overcome that:
Is this party tent big enough when we look at the latest polling numbers – the African American community, zero percent? The stance that Mitt Romney and the Republican party takes on women's' issues really does put an affront up to welcome women under the tent. Certainly, LGBT issues – that's a big problem for the Republican party. How do they look at the narrative of what their core beliefs are and stand with those, but seem more welcoming to the bigger, larger American audience that we are today?
McCain said she felt at home in the GOP, but she agreed with Jeb Bush and felt the Republican party needs to reach out to women more than they have.
"Megan, you know I love you, but as it comes down to being comfortable in the Republican party, isn't it pretty easy for you to be comfortable in the Republican party – well off, white and blond," Roberts asked.
McCain laughed. "Ow," she said. McCain said that she has had her differences with members of the Republican party over her support for LGBT rights. She said that she felt Romney would win due only to his strength on economic issues. She said that, while the part has people she can believe in like her father Sen. John McCain (R-AZ) and Romney, it is also home to politicians like Missouri Senate candidate Todd Akin who she cannot believe in.
Watch the segment below via MSNBC:
> >Follow Noah Rothman (@Noah_C_Rothman) on Twitter
Have a tip we should know? [email protected]