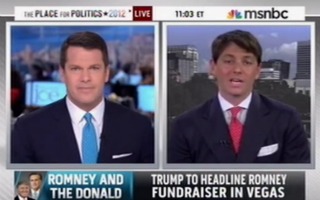 Former Rick Santorum presidential campaign communications director Hogan Gidley squared off against MSNBC anchor Thomas Roberts in a heated exchange over the impact of reality television host and real estate developer Donald Trump's fundraiser with Republican presidential candidate Mitt Romney. The conversation devolved into a testy back-and-forth when Roberts challenged Gidley's characterization of Trump as equivalent to Vice President Joe Biden in his tendency to utter embarrassing gaffes on the campaign trail.

RELATED: MSNBC's Thomas Roberts And RNC's Reince Priebus Battle Over 'War On Women'
Roberts first detailed the negative response from Democrats to Romney's appearance with Trump. He asked Gidley if President Obama had appeared at a fundraiser with comedian Bill Maher, "wouldn't Republicans be just as outraged?"
"I'm sure they would be," said Gidley. He went on to characterize the controversy surrounding Trump as "ridiculous." Gidley said that one of MSNBC's anchors had asked how Romney could stand on stage with someone who could embarrass him at any moment. "And I'm thinking to myself, well Barack Obama could be embarrassed at any moment by a guy he made Vice President," said Gidley.
"Hogan, are you really going to throw Joe Biden under the bus," asked Roberts. "Are you really going to compare Joe Biden, one of this country's most dignified and greatest political leaders that can cross the bridge getting to both sides of the aisle, and compare him to a Donald Trump? Do you really want to say that?"
Gidley began to respond, but Roberts interrupted, "you really want to compare him to the gaffe-tasticness of Donald Trump."
Gidley again attempted to respond by reiterating his assertion that an MSNBC anchor had said that Romney could be embarrassed by Trump, but he was again interrupted by Roberts.
"He has embarrassed the President on many occasions," said Gidley of Biden. "This is all very, very silly stuff. Let's get focused on the issues here. You can't be held accountable for what your supporters say or do."
Roberts interrupted again, saying that it's one thing to be held accountable but it is another to attend a fundraiser with Trump who promotes what Roberts characterized as "birtherism."
Gidley countered that Romney has distanced himself from those who promote "birther" conspiracy theories. Furthermore, Gidley said that Trump is not known for "birtherism" but for economic growth.
"Hogan, I'm a little bit surprised that you would come on here and defend Donald Trump and say that he's not keeping the "birther" conspiracy alive when he's just on CNBC this morning keeping it alive," said Roberts.
Gidley again called the issue "silly" and said that the media is advancing the "birther" conspiracy theories. "But it's not the media bringing this up," said Roberts. "Why are you blaming the media about this, when it's Donald Trump who throws this crap out there?"
Watch the exchange below via MSNBC:
Have a tip we should know? [email protected]