MSNBC Anchor Calls Out Reid For His Own Nasty Remarks After He Attacks Trump's Rhetoric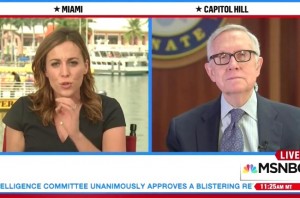 After Senate Minority Leader Harry Reid attacked Donald Trump for his habit of making hateful and bullying remarks, NBC reporter Hallie Jackson confronted Reid about his own history of similar comments.
Reid said earlier in the week that Trump looked "not slim and trim." Trump responded when asked about those comments by The Washington Post, "Harry Reid? I think he should go back and start working out again with his rubber work-out pieces," a reference to the rubber exercise band that left Reid with a noticeable injury and permanent loss of sight in one eye.
"Donald Trump is the opposite of Harry Reid…" Reid responded in kind Friday. "Donald Trump is so low class, such a cheap shot artist, that he would be boasting on maybe I should blind myself on the other eye. What kind of a man would do something like that?"
But Jackson pointed out that Reid has his own history of nastiness: "Senator, I have to ask you. You mentioned you have gotten into altercations with people in the past. You've called Mitch McConnell "craven," George W. Bush "a loser," and even called Bush's dog fat."
She read from a recent column from liberal columnist Dana Milbank calling out Reid for his rhetoric: "I can't help thinking Reid is one who deserves some blame for the deterioration of discourse that numbed the country to Trump's vulgarity," Milbank argued.
"Do you hold responsibility?" she asked. "Should we blame you for the rhetoric we are hearing in this campaign?"
"I have never ever picked on someone — other than presidents, senators, people of power," Reid said. "A lot of people are afraid to speak out against people of power. I have never been."
"So it's okay to pick on, in your words, people in power?" Jackson pressed.
"I'm not picking on them," Reid spat a little angrily. "Keep in mind, I don't pick on anyone– I don't ever determine my remarks because of someone's color, because of their race, because of their sexual identity. I don't do that. Look at anybody I have talked about. They are people of power."
Watch above, via MSNBC.
[Image via screengrab]
——
>>Follow Alex Griswold (@HashtagGriswold) on Twitter
Have a tip we should know? tips@mediaite.com