MSNBC Anchor Confronts GOP Lawmaker: Should We Just Send Kids To School 'To Be Assassinated?'
Roberts Confronts GOP Rep: Should We Just Send Kids To School 'To Be Assassinated?'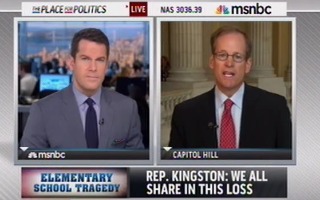 On Tuesday, Rep. Jack Kingston (R-GA) appeared on MSNBC with anchor Thomas Roberts to discuss the measures Congress is considering to adopt in response to the mass shooting in Connecticut on Friday. Roberts pressed Kingston on lax gun ownership rights in this country, to which Kingston countered that many European nations with strict gun control measures still experience mass shootings. Roberts responded to that by asking if he was suggesting that Americans must remain "complacent" and "send our children to school to be assassinated?"

RELATED: White House Press Secretary On Gun Control Legislation: 'Part Of' The Solution, But 'Far From All Of It'
Roberts asked Kingston about his high level of support from the National Rifle Association, and asked if he could divorce his evident political leanings from the legislative measures that may need to be taken to avoid future massacres.
"It is very sad that we want to cloud the issue by making NRA the policy as opposed to Adam Lanza, and what triggers this off," Kingston replied. He listed a number of massacres that have occurred in Germany and Norway – two nations with strict gun control laws. Meanwhile, Kingston said, the Czech Republican, which has relatively lax gun control measures, has not experienced that kind of violence.
"So, we need to just be complacent in the fact that we can send our children to school to be assassinated," Roberts asked pointedly.
"One of the problems we have on the gun control debate is it immediately starts dividing people into, 'You disagree with me, therefore you're the enemy,'" Kingston replied. "When we immediately start saying, 'Well, you want this, therefore you dislike children,' or whatever, it's not productive to the debate."
Watch the clip below via MSNBC:
> >Follow Noah Rothman (@Noah_C_Rothman) on Twitter
Have a tip we should know? tips@mediaite.com