MSNBC Anchor Presses Dem Rep.: Should Obama Condemn Grayson's KKK-Tea Party Email?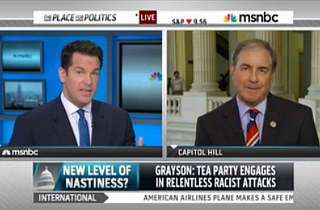 On MSNBC this afternoon, anchor Thomas Roberts brought up Democratic Rep. Alan Grayson's controversial fundraising email that compared the tea party movement to the Klu Klux Klan, pressing another Democratic congressman on whether the president should speak out against such "vitriol."
Grayson sent out the offending email Monday evening, accompanied with an image of a burning cross and the words "Tea Party" scrawled in fire-colored letters. The email reiterated the congressman's long-standing claim that the more conservative elements of the Republican Party are no different than the white supremacist organization. "if the hood fits, wear it," Grayson defiantly said in response to the controversy.
And so on MSNBC, while speaking with Rep. John Yarmuth (D-KY), anchor Roberts took the opportunity to ask: "Would you agree that the President should condemn that type of solicitation?"
"I've learned a couple things in my life in Congress," Yarmuth replied. "One is you never talk about the Ku Klux Klan; you never talk about Nazis or Hitler; and you never talk about slavery. So I think that was a mistake on Alan's part and he ought to apologize for that."
"So do you think it should just end with him," Roberts pressed, "or do you think the President should come out and condemn it?"
"I think the president can't be responsible for what every Democrat across the country does," Yarmuth asserted. "If he wants to express himself on it, I think that's fine, but I don't think he's under any obligation to comment on what individual members do."
UPDATE: At today's White House Press Briefing, our own Tommy Christopher asked Press Sec. Jay Carney about Grayson's email. The press secretary responded that he has not yet talked to the president about it.
Watch below, via MSNBC:
[h/t
NewsBusters
]
— —
>> Follow Andrew Kirell (@AndrewKirell) on Twitter
Have a tip we should know? tips@mediaite.com