MSNBC Anchor Thomas Roberts Claims Mediaite Posted Misleading Story – I Disagree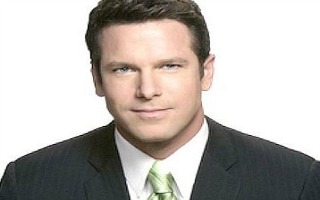 MSNBC's midday anchor Thomas Roberts recently took to Twitter to challege a post I wrote on Friday. In that post, I noted the absence of MSNBC host Touré from Roberts' program after he accused Mitt Romney's campaign of engaging in the "niggerization" of President Barack Obama. Roberts suggests there was nothing newsworthy in the absence of two of the four hosts of The Cycle appearing on his program. I humbly disagree.

RELATED: Where's Touré? MSNBC's The Cycle Hosts Absent From Regular Tease Segment
On Friday, after Touré caused a stir with those inflammatory comments about Romney's presidential campaign, Mediaite posted a story written by me about his glaring absence from the set of Robert's midday news program. My piece noted that only one half of The Cycle was present and asked, "Where's Touré? MSNBC's The Cycle Hosts Absent from Regular Tease Segment."
Roberts then took to his Twitter account where he took issue with that post: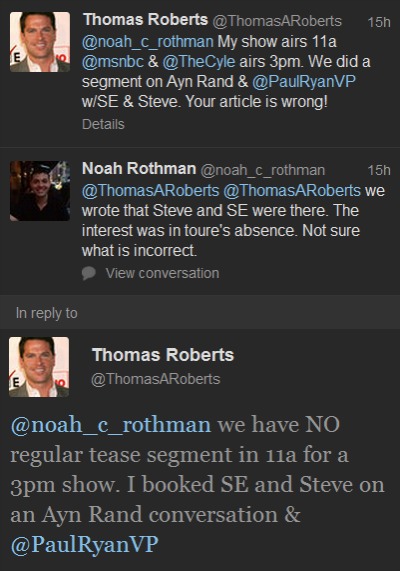 The problem he had with the post was evidently the word "regular" to describe the appearance of the hosts of The Cycle on his program. At first, I will admit that I dismissed his argument because, as a regular viewer, I was fairly certain that it was no stretch to describe The Cycle hosts' appearances as "regular." But Roberts continued to protest: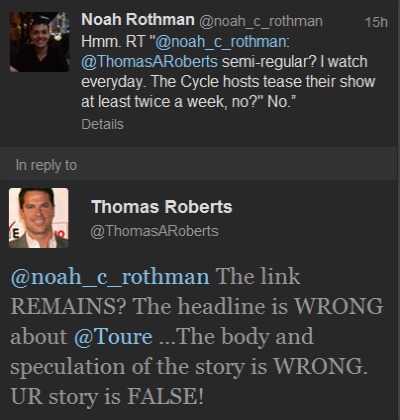 So, does Roberts' have a point?
In the eight weeks since The Cycle debuted on June 25, the four hosts of the midday debate program have appeared on Roberts' straight news program five times.
Early on, The Cycle hosts appeared on Roberts' program regularly on Fridays. The four hosts joined Roberts on June 29, July 6 and July 13 to discuss the upcoming topics on their program (Mediaite even posted a comment on the 6th in which S.E. Cupp accused Ann Romney of lying by saying her husband's campaign was actively considering a woman to be his running mate).
The hosts skipped the weeks immediately preceding and following the period in which MSNBC's programming was preempted to broadcast the Olympics.
On Wednesday, August 15, all four hosts of The Cycle were back on Roberts' program to discuss Romney's selection of Paul Ryan to join him on the Republican presidential ticket:
The following day, Touré's insensitive comments sparked a broad outrage. The interest in Touré's response to the controversy was nearly universal.
On Friday the 17th, only Cupp and Steve Kornacki joined Roberts to discuss political events on his program. The absence of both Touré and Krystal Ball, the two hosts who had directly or indirectly accused the Romney camp of engaging in subtle racism, was certainly noteworthy.
Thus, Mediaite published my piece noting that Touré was conspicuously absent from Roberts' program without engaging in any speculation as to why that would be.
I am prepared to concede to Roberts that the word "regular" to describe The Cycle hosts promotional appearances on his midday news program is debatable. Certainly, the hosts have not regularly appeared twice a week (although they did this past week), as I incorrectly recalled in the above tweet. However, I believe it is fair to assess that the three Friday appearances leading up to the Olympics, followed by this Friday's appearance for a show that is two months old and was preempted by the Olympics, is regular. Regardless. the facts in the post in question are accurate.
There are any number of excuses as to why only one half of The Cycle would appear on his program. But Roberts did not make a reasoned argument as to why this was the case — his assertion was merely that he decided to book just Cupp and Kornacki, as though that is predictable and has occurred in the past. That is tough to believe because it has not. It breaks from a pattern. Suddenly, Roberts claims he would not want to invite a guest who made national news the day before on his program?
There should be no debate that the absence of Touré from this segment, given that this had not happened before and it occurred less than 24-hours after The Cycle's most controversial moment to date, was newsworthy. Even Roberts would have to agree that the level of interest in Touré's comments and his absence from the MSNBC set with his colleagues merits a post on a site that covers media.
Roberts' issue with the post's headline is one I am willing to entertain only based on my use of the word "regular" but I respectfully disagree that there is anything misleading about it in either in the body or the headline.
> >Follow Noah Rothman (@Noah_C_Rothman) on Twitter
Have a tip we should know? tips@mediaite.com