MSNBC Anchor To S.E. Cupp: Do You Tire Of 'Defending The Indefensible' On GOP's Anti-Woman Rhetoric?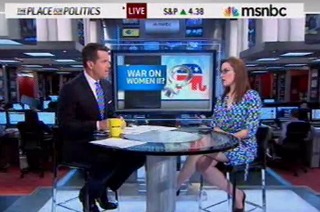 During a segment discussing the explosion of cases of rape within the military and insensitive efforts by a Republican politician to explain away those cases of violence, MSNBC anchor Thomas Roberts invited fellow host S.E. Cupp on his program on Thursday to discuss that problem. In a moment of bluntness, Roberts asked Cupp if she ever gets "tired of defending the indefensible." Cupp replied that she does no such thing.

Roberts played a clip of Sen. Saxby Chambliss (R-GA) who recently explained away military rapes by citing the "hormone level created by nature" as part of the motivation behind those attacks.
Cupp called statements like those by Chambliss "troglodytic" and "Paleolithic," but noted that there are female lawmakers who also oppose proposals like moving prosecutions of military rape into civilian courts.
"There are apparently still Republican men who have not learned the lessons of Todd Akin and Richard Mourdock," Cupp noted. "There are inroads to reach women for the GOP. Women are concerned about taxes, women are concerned about government largess, about government efficiency. You don't have to go to these issues to try and get women."
She added that it is "good news" that it is becoming a rarer sight to see Republicans try to defend their fellow party members when they make insensitive comments.
RELATED: GOP Sen. Saxby Chambliss Blames Military Sexual Assault On 'The Hormone Level Created By Nature'
"I know you don't speak for all Republican women," Roberts said later in the segment, "do you get tired of defending the indefensible when it comes to comments like that?"
"I don't defend the indefensible, and that's what's tiring," Cupp replied. "You can disagree with the party, you can call people out, and still agree with them on a whole host of issues."
Watch the clip below via MSNBC:
> >Follow Noah Rothman (@NoahCRothman) on Twitter
Have a tip we should know? [email protected]