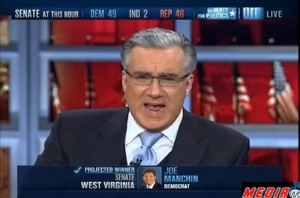 As predicted by almost all cable news pundits, the GOP regained control of the House of Representatives last night, ensuring that Rep. John Boehner would become the Speaker of the House. During his live "acceptance speech" in which he spoke about bipartisanship, the presumptive Speaker became quite emotional, choking up several times in the joy and import of the moment. This not only merited the attention of the MSNBC election team, but also their skepticism as they picked apart Boehner's "weeping" in a most petty manner.
Keith Olbermann opened the ostensible bash fest of Boehner's emotion by claiming "John Bohener, by his own admission, will cry at a super market opening." To his credit, Lawrence O'Donnell quickly defended Boehner, saying "I do think that was a genuine — when someone assumes the Speakership, they feel the weight of that office instantaneously."
Rachel Maddow then aimed to bridge the distance between Olbermann and O'Donnell's thoughts by saying, "he is famous for having wept openly and almost like ferociously on the floor of the house while begging Republicans to vote for T.A.R.P., to vote for the bailout," adding "and he is now out there building his speakership in part on demonizing what he begged people to vote for…he is a weeper."
All of what Maddow says is true, and is a legitimate critique. However, its almost as though Ms. Maddow has turned into the "mean girl" in High School who is unhappy with the school election and is left only to deride the winner. Watch the video from MSNBC below.
Have a tip we should know? tips@mediaite.com
Colby Hall - Founding Editor