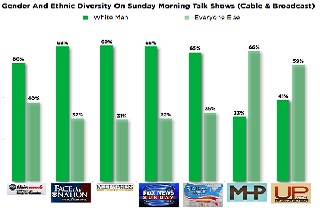 Liberal media watchdog Media Matters touched off a slew of criticism when they praised newly-minted All In host Chris Hayes for the diversity of his guests, and Hayes then proudly touted his record. On Friday, the site released another round of research analyzing the ideological, racial, and gender diversity of broadcast and able Sunday news shows, and while Hayes' MSNBC fared best among cablers and broadcast nets, ABC News' This Week was tops in diversity among broadcast Sunday shows like NBC News' Meet the Press, CBS' Face The Nation, and Fox's Fox News Sunday.
Media Matters published its research in the form of a very un-Ezra Klein-esque nine charts, which show that, overall, the broadcast Sunday shows tilt right with respect to the guests, panels, and journalists hosted on the shows, with NBC's Meet the Press the lone exception in the journalist category, which was split evenly between conservatives and progressives, and CBS News booking slightly more elected and/or administration Democrats than Republicans, as well a significantly more Democrats for solo interviews. Overall, though, it was ABC News' This Week that came closest to achieving ideological balance across the categories.
For some reason, Media Matters neglected to include cable news networks in their analysis of partisanship, which is a shame. While it likely would have shown a leftward tilt for MSNBC, it would be of tremendous value to see what the numbers really are, since both Up and Melissa Harris Perry seem to make a concerted effort to book guests from the "other side," and a comparison with CNN and Fox News could have been very instructive.
When they looked at gender and ethnic diversity, and included cable news, Media Matters found that MSNBC far outpaced the competition:
MSNBC's Sunday Shows Hosted Significantly More Women Than Those Of The Broadcast Networks Or CNN's State Of The Union. Melissa Harris-Perry and Up with Chris Hayes hosted women 45 percent and 38 percent of the time, respectively. Meet the Press was the worst in this category; only 20 percent of the program's guests were women.

…MSNBC's Guests Were Much More Ethnically Diverse Than Broadcast Shows Or CNN. Melissa Harris-Perry was the only show to host a majority of non-white guests — 39 percent of guests were African-American, 4 percent were Latino, 4 percent were Asian-American, and 1 were percent Arab-American. Up was still significantly more diverse than broadcast and CNN, with 37 percent of guests being non-white. No other program had a guest pool that was less than 82 percent white; Fox News Sunday was the least ethnically diverse, with 91 percent of guests being white.
Among the non-MSNBC shows, though, ABC News' This Week enjoyed an edge over their competition in every category. They booked more women (31%) than the others, while Meet the Press booking the fewest at 20%. This Week booked non-white guests 18% of the time, with Fox News Sunday at the bottom at 9% non-white guests, although NBC and CNN were close behind ABC at 17%. This Week booked the fewest white men, at 60%, while MTP was tops with 69%.
MHP and Up, though, were far better than ABC at representing white males' true proportion in the U.S. population, booking 33% and 41% white male guests, respectively.
To be fair, much of the criticism directed at Hayes has to do with his advocacy of a "quota system," rather than at the diversity itself, but this study brings the flip side of that argument into sharp focus. Criticism of the "quota" notion relies on the premise that it disadvantages otherwise-qualified members of the white male majority, while this study suggests that the white male majority has created a gravitational pull away from otherwise-qualified members of the minority. That's the age-old tension at the heart of affirmative action.
Notwithstanding your opinion of affirmative action (mine is in favor), producing a television show isn't the same thing as staffing a hospital, or a restaurant. There is an inherent value in the diversity itself, because even if white male guests disagree on political ideology, their point of view, their frame of reference, is likely to be similar in many respects. Rather than thinking of it as a competition to assemble the "most qualified" team, it's helpful to view these shows as recipes. If your chef has a predisposition toward potatoes, for example, you might get a diet of the best potatoes money can buy, but you'd be getting shortchanged, both nutritionally and flavorifically. If you only used sugar, you'd never get a decent cake.
Have a tip we should know? tips@mediaite.com