MSNBC Appears To Hold Obama's Ground Zero Trip To Different Standard Than Bush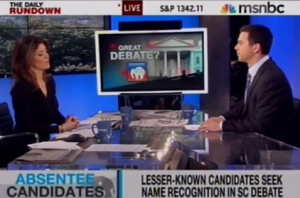 Today President Obama visited Ground Zero in what basically seemed like a gesture to allow as many people as possible to thank him personally for ordering the mission that found and killed Osama bin Laden. Given the enormous accomplishment, Obama is certainly entitled to the victory lap and it seems hard to complain about anything that serves as a tribute to the fallen victims of the terrible tragedy. But let's be clear, such a trip benefits the sitting President politically and this fact at one time was readily apparent to many of the folks at MSNBC.
During the last Republican administration, any trip, tribute or mention of 9/11 was often dismissed by MSNBC commentators as Republicans exploiting a horrific event for political gain. In fact, former Republican presidential candidate Rudy Giuliani was frequently dismissed as someone capable of only saying "a Noun, a Verb, and 9/11." Yet now that Obama took a trip there, one conversation this morning reflected the new seriousness and admiration that one should potentially attribute to a President's decision to spend time reflecting at Ground Zero.
Mark Murray, NBC's Deputy Political Director, discussing tonight's Republican Primary debate, commented:
"What could diminish the Republican field is just the split screen image of the day. You have President Obama going to Ground Zero for a very solemn tribute to those who died in the 9/11 terrorist attacks. On the other hand you have the [Republican] debate in South Carolina . . . and that split screen image could be very difficult for the Republican party."
And Norah O'Donnell, commenting on Obama's trip to Ground Zero, wondered whether Obama's "victory and command" of the Bin Laden operation "highlights the lack of foreign policy and national security credentials of the current Republican field?"
So now all of a sudden a trip to Ground Zero has no political implications whatsoever, and along with Bin Laden's death, serves as a reminder of Obama's unparalleled national security experience? Maybe it's too cynical to point out the disconnect between the reaction to Bush's and Obama's encounters with 9/11 remembrance, when Bin Laden's death has now made everyone feel so patriotic. Yet if that's case, let us never forget that moving forward remembering the victims of 9/11 should never again be considered politically exploitative if a Republican is the one suggesting it.
Watch the clip from MSNBC below:

Have a tip we should know? tips@mediaite.com