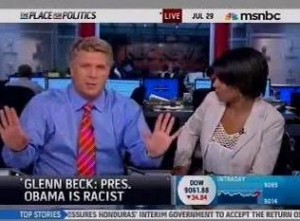 This week on MSNBC from 3-5pmET, two former CNBC anchors will handle hosting duties. Dylan Ratigan hosts his 4pmET hour while Donny Deutsch will fill in at 3pmET all week.
As MSNBC makes changes since David Shuster's indefinite suspension, CNBC is headed for changes as well.
This isn't the first time Deutsch has filled in as anchor, although in the past it has been as a co-anchor (and he's a frequent guest and sometime guest host on Morning Joe). But with Ratigan's business focus on his still fairly new 4pmET show, the late afternoons get a bit of a business news boost – and just in time to talk about Goldman Sachs. Deutsch's show this week, titled "America The Angry," will likely have some to say about the financial crisis, but expect some "angry" tea party coverage too.
Meanwhile change is expected with the current crop of CNBC talent as well. The New York Post reports correspondent David Faber a half-hour NoonET show, while the rest of the early afternoon line-up is adjusted to fit the new show. Strategy Session will be CNBC's third shot at a Faber hosted show – reports TVNewser:
The last two shows were met with little success. Faber hosted a program, "Bull Session," from 6-7 PM. He also anchored the short-lived primetime magazine, "Business Nation."
As some have criticized CNN for sticking to its guns and showing a resistance to change, MSNBC has never been in the same boat when they feel something isn't working. That's why Carlos Watson came and went, why Ratigan has hosted at 9amET previously, why NBC talent like Chuck Todd, Savannah Guthie and Andrea Mitchell now anchor on the network.
And if Deutsch doesn't bring what MSNBC is looking for this week, maybe they can just go back to another financial guy – Eliot Spitzer.
—–
» Follow Steve Krakauer on Twitter
Have a tip we should know? tips@mediaite.com