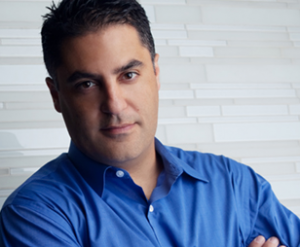 With the door at 30 Rock shut firmly behind him, ex-MSNBC host Cenk Uygur's version of events–that he refused to "tone down" his show in the face of political pressure–is getting sharply rejected by network bosses. "Cenk's claims are completely baseless," an MSNBC spokesperson told Mediaite. "It's unfortunate that he's decided to depart in such a negative fashion."
Uygur, host of the web talk show The Young Turks, had been hosting the 6 p.m. hour for MSNBC for nearly six months on a trial basis. The Rev. Al Sharpton is guest-hosting the hour this week, and the network is believed to be in negotiations with Sharpton about extending his stay or making him the permanent host.
In interviews Uygur has given since his departure from the network, he has claimed MSNBC bosses wanted him to tow the line:
In April, he said, Mr. Griffin "called me into his office and said that he'd been talking to people in Washington, and that they did not like my tone." He said he guessed Mr. Griffin was referring to White House officials, though he had no evidence for the assertion. He also said that Mr. Griffin said the channel was part of the "establishment," and "that you need to act like it."
MSNBC disputes Uygur was ever told what to say. "We did have numerous conversations with Cenk about his style, not substance." The network says an offer was made "to develop him into an even bigger television talent," though not necessarily in the 6 p.m. host role.
Another ex-MSNBC host, Keith Olbermann, will have Uygur on his Current TV show Countdown tonight.
Have a tip we should know? tips@mediaite.com