MSNBC.com Reporter: GOP's Attacks On Obama Are 'In Proxy, An Attack On African-Americans'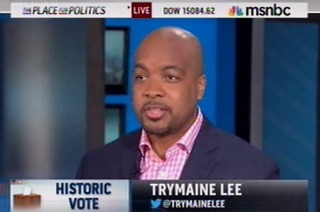 During a lively discussion on the Senate's immigration reform plan and the opposition it has received from some conservative groups on MSNBC on Thursday, the panel claimed that the Republican Party's members are going to further damage their reputations with minority voters if they continue their opposition. One MSNBC.com reporter also claimed that Republican politicians' attacks on President Barack Obama are, in fact, proxy attacks on African-Americans in general.

RELATED: Friendly Fire: New York Times, Mike Bloomberg Trade Accusations Of Racism
The Vice President of Demos.org, Heather McGhee, said that the GOP has not only an image problem but they also have a substantive policy problem in their efforts to reach out to minority voters. She said that Rep. Eric Cantor's (R-VA) efforts to "get rid of overtime pay," for example, is seen by some as a "stealth attack on the American dream."
MSNBC anchor Thomas Roberts noted that a higher proportion of eligible black voters went to the polls in 2012 than eligible white voters. "This is great for America. It's great for the Democratic Party. It's not so great for the GOP," said MSNBC.com reporter Trymaine Lee.
"It's gonna scare the white right out of the white-haired old men," Roberts opined.
Lee agreed and said that the GOP's efforts to institute voter identification laws or restrict voting times to Election Day resulted in the increased enthusiasm of black voters. "Going back to those fringe groups that control so much of the momentum behind the GOP, it's quite frankly scary for folks," Lee asserted. "You see effigies. You see some of the t-shirts. You see the attacks on President Obama, in proxy, an attack on African-Americans."
Watch the clip below via MSNBC:
> >Follow Noah Rothman (@NoahCRothman) on Twitter
Have a tip we should know? tips@mediaite.com