MSNBC Continues Attack On Fox News: "FOX Isn't News It's A Political Operation"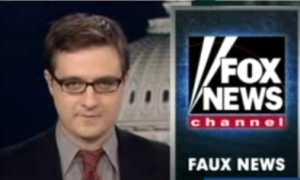 Last night on MSNBC's Countdown, substitute host Christopher Hayes and guest representative from Media Matters Ari Rabin-Havt discussed the results of the University of Maryland poll that concluded Fox News viewers to be the most misinformed of all news consumers. After playing some clips of Fox News hosts promoting what Hayes implied to be half-truths, the discussion morphed into a full on attack of Fox News, its viewers and its management, rather than attempting to resemble a credible critique to be taken with much seriousness.
Rabin-Havt claimed "as a political strategy, Fox decides 'hey, let's ignore the facts and push our spin . . . to help Republicans.'" Hayes suggested in an era of "post-truth politics," Fox's ability to convince their viewers of allegedly untrue statements is working. The back-and-forth Fox bashing briefly took a break just long enough for Rabin-Havt to get in a random unsupported jab at Republican speakers that he heard at a Tea Party rally and who he claimed to be "either chronically stupid, willfully ignorant or pathological liars."
Returning to the issue of Fox News, they both agreed that Fox's response from Michael Clemente, Senior Vice President of News Editorial, to the survey results where he attacked the poll takers rather than address the findings was "further proof Fox isn't news, it's a political operation and their executives behave like the spokesperson for a campaign." With Rabin-Havt's comments about Republican leaders and with outrageous mocking of opponents of MSNBC's preferred political viewpoint, it's clear Fox is no worse than MSNBC in advancing a "political strategy," it's just that Fox's ratings suggest they are more entertaining doing it.
Watch the clip from MSNBC below:

Have a tip we should know? tips@mediaite.com