MSNBC Contributor Ari Melber Defends Fox's Steve Doocy On Controversial Question To Chris Christie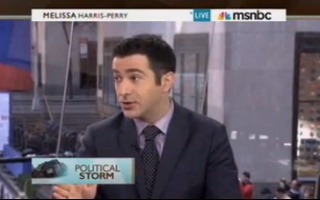 Regular cable news watchers may remember New Jersey governor Chris Christie's strongly-worded response to Fox & Friends' Steve Doocy after the morning show host asked him whether there is "any possibility that Governor Romney may go to New Jersey to tour some of the damage with you."
Here's how Christie responded:
I have no idea, nor am I the least bit concerned or interested. I've got a job to do here in New Jersey that's much better than presidential politics and I could care less about any of that stuff. I've got a job to do. I've got 2.4 million people out of power. I've got devastation on the Shore. I've got floods in the northern part of my state. If you think right now I give a damn about presidential politics, then you don't know me.
Ok, really: What's the deal with people saying "I could care less" when they clearly mean "I could not care less"? Words mean things, people.
Anyway. At least one MSNBC contributor thought Christie's answer was a little much given the actual question he was posed.
"It's too much," MSNBC contributor Ari Melber told host Melissa Harris-Perry about Christie's response. "It's too strong. And the question — to be fair to Steve Doocy, who asks a lot of really bad questions — that was a straight question. Prior to that clip, they were talking about the role of the president. And then to balance it out, he said — I don't think there's any spin on the ball — 'What about Governor Romney?' It is not unusual within the traditions of our country to have the challenger engage. We do that on foreign policy. They get briefings. Governor Romney has been included and offered to talk to the management infrastructure. And there are briefings if you win. If Governor Romney were to win, there would be briefings before he became president. So it was not a political question. I think it was a fair question."
Check it out, via MSNBC:
Have a tip we should know? tips@mediaite.com