MSNBC Contributor Crosses The Line, Insists Most CPAC-Goers Supported Pro-Slavery Heckler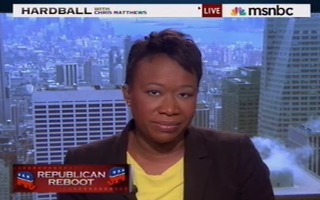 MSNBC contributor and editor of The Grio, Joy-Ann Reid, joined Chris Matthews on Monday for a postmortem discussion on the Conservative Political Action Conference. The MSNBC guests dug into an event at CPAC which focused on the affinity that opponents of the Republican Party have for insinuating, or directly stating in some cases, that conservative policy proscriptions are racially insensitive and Republican supporters are racially motivated. During that panel, one heckler stood up and broadcast his support for American black slavery. In the video, that heckler's comments prompted audible gasps of shock from his fellow panel-goers. But, according to Reid, only one individual at that panel challenged the heckler and most panel-guests supported the heckler's position. This is a grossly inaccurate account of what occurred, according to the original report of the event.

RELATED: Racism Talk At CPAC Derailed When Attendee Says Slaves Should Have Been Grateful
During a CPAC panel called "Trump The Race Card: Are You Sick And Tired Of Being Called A Racist When You Know You're Not One?," panel guest Scott Terry stood up and both defended slavery and segregation.
"There should be a little shame here about, sort of, fondness and nostalgia for the antebellum days in the South," Matthews noted. "This guy didn't see Django, obviously."
"The whole spectacle of it – it encapsulates what's wrong with the Republican Party on race," Reid said. After rehashing the ravings of a racial separatist, she asserted that a woman who stood up to challenge Terry was booed by the crowd of attendees.
"Most people came out of that tea party session saying that the woman who was arguing with that segregationist guy, she was the problem," Reid said. She asserted that Terry and his companion "weren't the problem to most of the attendees at that event" and "that is what's wrong with the Republican Party."
Here is the whole video of the exchange in question via Think Progress:
The event that Reid was referring to was originally reported in Talking Points Memo. She either did not read the report thoroughly or deliberately intended to mislead MSNBC's viewers with her recounting of the event.
The report goes into detail about the woman in question: Kim Brown, a radio host with the progressive news outlet Voice of Russia, an American broadcasting outlet funded by the Russian government. At one point, Brown objected to a point made by the moderator in which he claimed that the Democratic Party of today is made up of descendants of the founders of the Klu Klux Klan.
Brown and the moderator engaged in a heated exchange. Eventually, the panel guests shouted Brown down.
TPM's Benjy Sarlin interviewed some panel guests who expressed frustration at Brown's line of questioning. They complained that Brown was being intentionally disruptive. Indeed, this was the impression that was left with the panel moderator, K. Carl Smith, who gave this statement to TPM:
In the middle of my delivery, while discussing the 1848 "Women's Rights Convention," I was rudely interrupted by a woman working for the Voice of Russia. She abruptly asked me: "How many black women were there?" This question was intentionally disruptive and coercive with no way of creating a positive dialogue.
Brown's disruption and white separatist Terry's line of questioning were two distinct events. Reid seems to have conflated the two.
To suggest that most CPAC goers supported one deeply misguided individual who expressed support for slavery simply does not square with the footage above. One need only judge from the video alone that the crowd's reaction to this Terry's asinine comment was anything but supportive.
At what point does this kind of incitement expressed by Reid cross a threshold from just being ridiculous to being irresponsible? When does this level of defamation of a political movement promote the kind of hatred and incivility that so many on the left pretend to support?
Expressing support for slavery is profoundly ignorant and Terry is probably a deeply troubled individual. He should seek help. Reid's statement, however, is nothing short of slander of an entire movement. Broadcasters used to believe that this kind of behavior reflected poorly on them personally, let alone their industry. There once was an industry-wide belief in the mission to civilize and inform. The kind of statement made by Reid, intended to inflame a racially tense situation ignited by a private citizen with unconscionable views, is an intentional, naked, and inexcusable effort to gin up racial hatred.
> >Follow Noah Rothman (@NoahCRothman) on Twitter
Have a tip we should know? tips@mediaite.com