MSNBC Contributor: GOP To Blame For Obama's White, Male Inner Circle Because They Opposed Susan Rice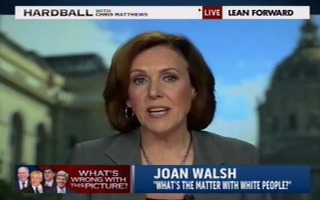 Since the New York Times printed a photo on Wednesday featuring the predominately white and male members of President Barack Obama's inner circle, contributors and MSNBC guests have been simultaneously noting the problem this presents for the diversity movement and exonerating Obama for his failure to appoint more women and minorities to top posts. Not one MSNBC contributor or progressive blogger, however, had been able to effectively tar the opposition party for Obama's failure to live up to their ad hoc diversity standards – that was, however, until Salon.com editor Joan Walsh stepped up to the plate.

RELATED: MSNBC Panel Blames Society In Effort To Not 'Smack [Obama] Around' For All White, Male Inner Circle
In a discussion about the vexing problem posed by a lack of diversity among the president's top staffers on MSNBC's Hardball, Walsh and Chris Matthews debated some of the female staffers who Obama could have chosen to promote but did not.
Matthews blamed the "glass ceiling" for the lack of women in the White House. That is, perhaps, a stronger argument at least than the one advanced by a former Obama campaign communications official who claimed that there was simply a lack of qualified women in the "pipeline" (due to systemic biases) to promote to a high ranking position in the administration.
Walsh took a more enterprising approach. She discovered a subtle way to blame the GOP for Obama's staffing decisions, noting that United Nations Amb. Susan Rice — both African-American and female herself — withdrew from consideration for a Cabinet post when it became clear she would face stiff opposition from Republicans in the Senate.
"We might not even be having this discussion had he picked Susan Rice, and had she had better shot at being confirmed," Walsh said. She noted that the president did not go to the mattresses with Republicans over Rice's potential nomination to replace Sec. Hillary Clinton in the State Department, but she opted to "leave that question aside."
"Had he been able to appoint Susan Rice, this would be a very different picture, literally and figuratively," Walsh concluded. "We might not even be talking about it."
Watch the segment below via MSNBC:
> >Follow Noah Rothman (@Noah_C_Rothman) on Twitter
Have a tip we should know? tips@mediaite.com