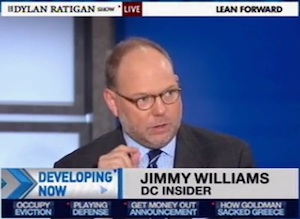 MSNBC contributor Jimmy Williams made a stunning personal revelation on The Dylan Ratigan Show Tuesday afternoon. During a discussion of the Penn State child rape scandal, Williams bravely revealed he also was sexually abused.
RELATED: Goldie Taylor Inspired To Share Her Own Story Of Sexual Abuse By Anger Over Penn St. Scandal
"This is not an easy thing for anybody," a visibly distressed Williams said. "I think a lot of Americans probably have been mentally and sexually abused in their lives, I was. And you don't know what it's like until it happens to you and you don't know how to react until you react. I didn't do anything about it, I didn't do a damn thing about it. Nothing, for years, I let it keep happening. And you know what — it didn't make me gay, it didn't make me screwed up in the head, it didn't make me volatile. It's just a part of my life."
"Chris Matthews said something very interesting on his show," Williams continued. "That when you walk into an institution, and you let them tell you how to live your morals and your life, then you'll fail, because you've been to what they're telling you to do. I went to the Citadel as an undergraduate, and the whole point of the Citadel is to walk into that school, let them break you down and build you up into, quote, the citizen soldier. I let them do that to a large degree, but i sure as hell kept a lot of Jimmy Williams in there. I don't know what that kid or those ten kids went through, I know what i went through. I didn't tell my parents or my priest, I didn't tell anybody. I moved on with my life. doesn't make that kid better than me or me better than her or whoever it is but you don't know until it happens to you. if you know about it, you've got a duty to tell people and if you don't, you're just as bad as the person violating that kid."
You could cut the emotional tension in the room with a knife and like fellow MSNBC contributor Goldie Taylor, Williams deserves credit for revealing a sensitive, personal story with his television audience that clearly has deeply affected him.
Watch Williams tell his personal account below via MSNBC:

Have a tip we should know? [email protected]