MSNBC Contributor On 'Nonstory' Of Benghazi Whistleblowers: 'I'm Not Sure Why This Is A Big Story Right Now'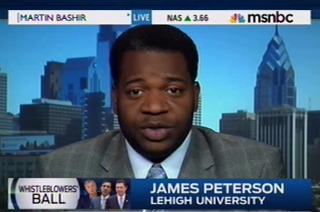 On Tuesday, James Peterson, MSNBC contributor and Director of Africana Studies and Associate Professor of English at Lehigh University, dismissed what he described as unrealistic expectations for how damaging Wednesday's testimony by the Benghazi whistleblowers will be for President Barack Obama's administration. He said the investigation into the Benghazi attacks were a "nonstory" and added that it bordered on "insane" to suggest that the investigation will result in repercussions for the president. "I'm not sure why this is a big story right now," Paterson said.

MSNBC host Martin Bashir began the segment by informing Peterson that Rep. Trey Gawdy (R-SC) had recently promised that Wednesday's Benghazi hearings would be "explosive."
"Given how much we already know, how are these hearings supposed to live up to that kind of hype?" Bashir asked
"I'm not sure the hearings will be able to live up to the hype," Peterson said. "I think the hype is part of the political strategy here on the part of those folk on the right who are very much interested in making sure that this story – or nonstory, if you will – continues to live and breathe."
He added that the testimony that one of the whistleblowers is expected to give will not be as earthshattering as the presidents' critics have claimed.
RELATED: Huckabee Predicts Benghazi Will Be Obama's Watergate: 'This President Will Not Fill Out His Full Term'
Liberal columnist Jonathan Alter added that the testimony of Defense officials already contradicts the claims that one whistleblower will make regarding the ability of American assets to be flown into theater in time to intercept a second attack on a Benghazi safe house where two Navy SEALs died.
Alter called it "disgusting" that some on the right are implying that federal officials, including Obama himself, stood by while American service personnel died in that attack.
Asked about claims by former Arkansas Gov. Mike Huckabee that the Benghazi hearings will result in Obama's resignation, Peterson called that claim "wishful thinking."
"I'm not sure why this is a big story right now, but at the end of the day there are certainly those on the right who are trying to politicize this and make as much hay out of the situation as possible," Peterson concluded.
Watch the clip below via MSNBC:
> >Follow Noah Rothman (@NoahCRothman) on Twitter
Have a tip we should know? tips@mediaite.com