MSNBC Contributor On Why No Reporting On Stephen Colbert Sister's Arrest: 'I Don't Know'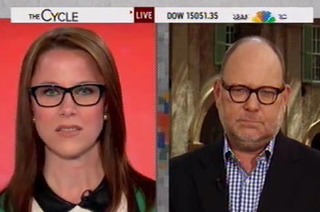 During MSNBC's The Cycle on Tuesday, the hosts grilled MSNBC contributor and South Carolina native Jimmy Williams in pursuit of his insight into the dynamics of the state's 1st Congressional District and today's special election. Williams was asked about the revelation that Democratic candidate Elizabeth Colbert-Busch had spent some time in jail due to a contempt of court citation. When asked why the media was not reporting this potentially damaging fact, Williams replied "I don't know."

RELATED: Stephen Colbert's Sister Wins S. Carolina Dem Primary, Mark Sanford Advances To GOP Runoff
"Jimmy, what's the story with her arrest?" said S.E. Cupp. "Apparently, she spent some time in jail on a contempt of court charge during divorce proceedings."
"How did that go so long without coming out and is anyone going to care?" Cupp asked.
"First of all, it was a charge from 25 years ago," Williams replied. He added that Colbert-Busch wanted her children to not be around her ex-husband for personal reasons. Williams sympathized with her, saying that he believed it was "a trumped up charge."
"Why the press hasn't reported on it? I don't know," Williams opined. He noted that he news broke in right-leaning blogs a week ago. "It's out there and I think she's addressed it," Williams added. "The question is, I think it was so long ago and – I mean, she didn't run over a small child or something."
"Silver lining," Cupp agreed.
Watch the clip below via MSNBC:
> >Follow Noah Rothman (@NoahCRothman) on Twitter
Have a tip we should know? tips@mediaite.com