MSNBC Contributor: What's Happening In Egypt Shows 'Democracy Has Its Limitations'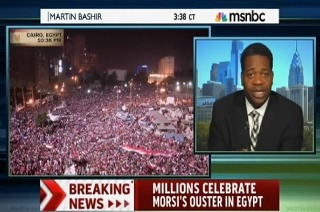 On Wednesday, Lehigh University professor and MSNBC contributor James Peterson took a skeptical view of the coup that ousted Egyptian President Mohamed Morsi. Asked if the coup in Egypt would force the world to rethink what it means to be a democratic nation, Peterson said that it was wise to be wary of any military overthrow of a popular government. "I can see that democracy has its limitations when you think about what's going on in the Middle East, in particular what's going on in Egypt," Peterson said.

RELATED: Glenn Beck Explains Why Egypt's Revolution 'Failed'… During Food Insurance Promo
"I want to ask you about this concept of democracy," host Joy-Ann Reid began. "In Egypt, we have an emergent democracy where the will of the people is essentially being expressed through the military. Do we need to start to get a more fluid sort of concept of what it means to be a democratic country?"
Peterson said that there are democratic themes to this coup because it is popularly supported and is a rejection of theocracy.
"I think as outsiders here in the states, we also have to understand that what we think should be the outcomes of the Arab Spring may or may not be that," he said, "and that the unfolding of democracy is a messy, messy process."
Peterson added that it was prudent to be skeptical of what is still a military coup. He noted that it is still unclear when there will be elections and how transitional government would step down.
"Going forward, how do you avid the same thing from happening again?" he asked. "This is still an Islamic country. There is still the capacity for Islamic leadership to ascend once again in terms of any kind of democratically elected leader there."
Peterson cautioned that, given events in Egypt, it was wise to be aware of the the limitations of democracy.
Watch the clip below via MSNBC:
> >Follow Noah Rothman (@NoahCRothman) on Twitter
Have a tip we should know? tips@mediaite.com