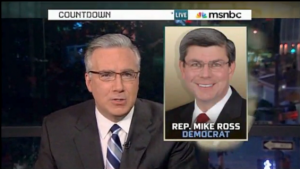 Earlier today, we wondered if Keith Olbermann knew that footage of his show was being used in an ad by Change Congress, a political group, and brought up the issues that would be raised if he did. An MSNBC spokesperson tells Mediaite no permission had been given for the ad, and says that the network has demanded that Change Congress stop running it.
The ad criticizes Mike Ross, a Democratic representative from Arkansas, for taking money from for-profit healthcare organizations and for opposing the public option, despite polls showing that the majority of his constituents support it. Change Congress isn't explicitly pro-public option, per se; according to the group's website, its main purpose is to combat the outsized influence of special interests over the American political system. "Here at Change Congress, we believe that politicians should work for the people, not special interests." The ad features a total of about 30 seconds of clips from Countdown in which Olbermann calls out Mike Ross. Here it is:
Lawrence Lessig, the founder of Change Congress, touted Olbermann's presence in the ad in an email to Change Congress members. "This ad includes a substantial cameo by Keith Olbermann, and for those of you who know my voice, you'll recognize a certain narrator," he wrote.
The Rachel Maddow Show recently used a 10-second clip from the ad, but cut it off before the Olbermann portion started, which means that at least someone at the network knew about it beforehand. The ad was released by Change Congress on September 18th.
This isn't the first time Olbermann has been used in a political context without his permission; in September of 2008, Barack Obama's campaign ran an ad on VoteForChange.com featuring footage of Tom Brokaw and Olbermann's voice until MSNBC sent the Obama campaign a ceast-and-desist letter.
Have a tip we should know? tips@mediaite.com