MSNBC Discovers Voter Fraud Only After Republican Firm Implicated In Malpractice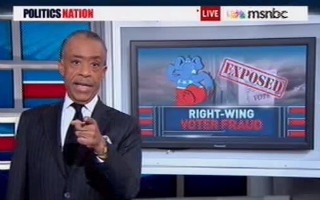 For several months, MSNBC's hosts, joined by other left-leaning pundits on radio and television, have contended that there is virtually no voter fraud and that identification laws aimed at preventing fraud were merely veiled attempts to reduce the participation of minority voters in elections. This has been a rather successful cottage industry for outlets like MSNBC. But, today, a highly publicized scandal involving a Republican-aligned firm has focused progressives' attentions on the problem of voter fraud. It would be a failure of accountability not to recount how deeply invested some liberal pundits have been in the myth that voter fraud does not exist.

How invested? MSNBC has literally branded their channel on this meme on commercials for their programming:
"The reason I feel there's no voter fraud is, even under the Bush administration when they looked for the cases, they weren't there," said host Al Sharpton in one of his estimable Lean Forward commercials promoting his network. "I think they want us to believe that there is some widespread fraud." Sharpton proceeds to mock the supposed fear of "boogieman politics" surrounding
Sharpton is not alone. MSNBC host Touré called charges of voter fraud a "red herring." "It does not exist," Touré said pointedly on July 11. "The disenfranchisement of millions of black and brown people is the issue," said Touré.
In fact, countless left-leaning hosts and contributors, either directly or through implication, have levied a similar charges that allegations of voter fraud are simply used to justify racial discrimination.
All that appears to have ended last week when a Republican-aligned firm was implicated in a widespread signature fraud scandal in Florida forcing the Republican National Committee to sever ties with the firm. And, with that, the clouds blotting out MSNBC's ability to identify malpractice parted and the light of truth shown down.
Sharpton, rather than focusing on the substance of the allegations, immediately identified a double standard – saying that the now-defunct community organizing group ACORN, which had registered minority voters and was implicated in electioneering practices, incensed the right in 2008. He questioned why this new scandal has caused little consternation among conservatives in 2012.
"This is exactly what stated the phony ACORN scandal," said Sharpton. "Phony voter registrations – the same thing. So where is the rightwing outrage today?"
"Did the rightwing think we wouldn't notice their convenient double standard," Sharpton asked, concluding his comically myopic report. "Nice try, but we gotcha."
How embarrassing.
MSNBC's self-imposed embargo on reporting election and voting fraud has broken and it only took a high-profile scandal involving a Republican firm to do it. MSNBC has broadcast multiple reports on this scandal across the platform — from allegedly straight news programs like the 11 a.m. block anchored by Thomas Roberts to Chris Matthews' point of view program, Hardball.
Had any anchor made the distinction between in-person voter fraud, which is a questionable reason to institute strict voter identification laws, and other forms of voter fraud, MSNBC could have protected themselves from this critique. They didn't.
If that was all that this cable news network needed to report the news was an infraction committed by Republicans, they could only have looked to University of California, Irvine Professor Richard Hansen's Election Law Blog. There is a treasure trove of cases of voter fraud, both Democratic and Republican (though often more Republican), on the local level going back years.
Or perhaps they could have read Fox News reporter Eric Shawn's blog. Shawn has been covering voter fraud cases across the country for years – uncovering bipartisan violations across the nation often through old fashioned, shoe-leather reporting.
Or, they could have read Mediaite! In July I published a piece detailing how absentee and signature ballot fraud is not only endemic but an accepted practice by operatives working for both parties. Don't believe me? Then take the word of indicted Democratic operative Anthony DeFiglio who, in December 2011, pleaded guilty to multiple charges of absentee ballot stuffing. "This is an on-going scheme and it occurs on both sides of the aisle," DeFiglio said of his charge to identify registered voters who were unlikely to cast ballots and forge their votes.
But none of these myriad abuses and violations seemed to exist for MSNBC until last week. It is unfortunate that it requires a scandal to legitimize real reporting. One has to wonder, though, having invested months into the "voter fraud does not exist" meme, if MSNBC loses any credibility with their audience now that they concede the phenomenon is real.
Election fraud is both widespread and complicated. From signature fraud, to absentee ballot stuffing, to vote buying, to ringer candidates — to pretend these abuses do not exist in order to secure political advantage is beyond reckless.
Asserting that in-person voter fraud, which is the focus of many controversial proposed laws requiring identification at the polls, is so rare as to be inconsequential, is a defensible statement and logical position. That is not what the MSNBC commentators said. They went for broke, suggesting that there was basically no such thing as voter fraud. This was not just the partisan or misleading partial reporting of facts; it was the outright denial of facts. It seems MSNBC has at least opted to reverse this flawed course, but its sad that the catalyst had to be a purely partisan event.
> >Follow Noah Rothman (@Noah_C_Rothman) on Twitter
Have a tip we should know? tips@mediaite.com