MSNBC Editor: 'Scratching My Head Over The Outrage' Over NSA Phone Records Scandal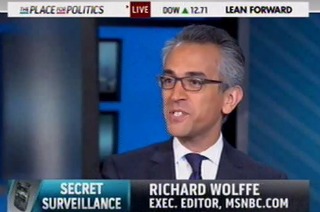 MSNBC.com Executive Editor Richard Wolffe told anchor Thomas Roberts dismissed the notion that the news that the National Security Agency has been collecting the records of every Verizon subscriber's phone records was a scandal. He said that the outrage that greeted similar infringements on civil liberties by President George W. Bush's White House resulted from the fact that his administration was conducting "warrantless" surveillance.

"I'm kind of scratching my head over the outrage on this one," Wolffe began. "What was outrageous under the Bush administration, what really troubled people, was that there was warrantless. They were doing this without going to court. That was the key principle here."
Wolffe said that the order to obtain Verizon phone records is subject to judicial review, though that review is secret. "Frankly, these courts actually never reject an application," Wolffe conceded.
RELATED: Congrats, Everyone: You Voted For NSA Overreach Under Obama And Bush; Now Can We All Finally End It?
He added that President Barack Obama is not pursuing a hypocritical policy because he confirmed in 2008 that he would pursue appropriate surveillance practices to keep Americans safe so long as they are approved by a judge.
"You could disagree with it. You could say it's all wrong and any of this is an intrusion in privacy, but he has been explicit about it and it is now under court supervision," Wolffe concluded.
Watch the clip below via MSNBC:
> >Follow Noah Rothman (@NoahCRothman) on Twitter
Have a tip we should know? tips@mediaite.com