MSNBC: Exits Show President Obama Overperforming By 8 Pts. With Ohio Working Class Whites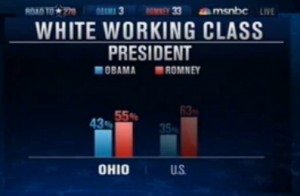 The entire world is watching for any sign of a result in the all-important election for the President Of The United State Of Ohio, and MSNBC's exit polling has what could be some good news for President Obama's chances of carrying the all-important swing state. According to those exits, President Obama is polling eight points above his national average with working class white voters in Ohio, perhaps buoyed by the 59% of Ohioans who approve of the President's auto rescue. Even so, former Massachusetts Governor Mitt Romney is still winning the white working-class vote in Ohio, 55%-43%.
At the national level, President Obama is polling at 35% with white working-class voters, to Mitt Romney's 63%, but in Ohio, that margin is only 55%-43% in Romney's favor, reported MSNBC's Tamron Hall. Ohio voters also approve of the auto rescue by a margin of 59% to 36%, according to MSNBC's exit polling, and of voters who approve of the bailout, 75% voted for President Obama. MSNBC election anchor Rachel Maddow called the exit poll results "stunning, in the way they shaved that margin down in that critical state."
While the President is overperforming in that key demographic in Ohio, the fact is he really needs to. If you extrapolate those auto rescue numbers, the voters who approve of the bailout and voted for President Obama are not enough to win him the state, meaning he has to pick up a decent chunk of Ohio voters who don't approve of the auto rescue. Of course, exit polls do't take early voters into account, so the President can also make some of that up there.
It's very early yet, but with no surprise calls yet, Ohio continues to be the key to electoral victory for President Obama, and any sign one way or the other will be carefully scrutinized. This sounds like good news for President Obama, but time (hopefully hours, not days… or weeks) will tell.
Here's the clip, from MSNBC:
Follow Tommy Christopher (@TommyXtopher) on Twitter.
Have a tip we should know? tips@mediaite.com