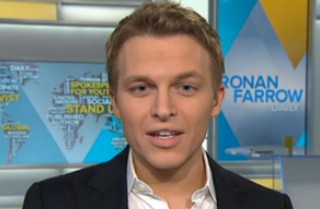 A well-placed source tells me MSNBC will be announcing major programming changes sometime in the next month, including the cancellation of Ronan Farrow's afternoon program, Ronan Farrow Daily.
Mr. Farrow's program — which now averages around just 50,000 viewers in the key 25-54 demo — has never performed well despite the hype that originally preceded it last February before its first airing. In the third quarter of this year, the show is down 51 percent from what occupied its 1:00 PM EST time slot a year ago (Andrea Mitchell Reports). Whether the 26-year-old Rhodes Scholar still stays on with the network in a pundit capacity isn't clear.
According to a network spokesperson when asked about a possible cancellation of the show: "No, we're fully committed to Ronan." Mediaite also reached out to Mr. Farrow's rep for comment but hasn't heard back.
"If winning isn't everything, why do they keep score?" Vince Lombardi famously asked.
The TV news business truly is like football. You have big players, role players, the talented and not-quite-so-talented sharing the same field, and those behind the scenes orchestrating all the strategy. A starting job could be yours one week and gone the next. The context of the score Lombardi refers to in the cable news world is the aforementioned 25-54 demo — the only ones advertisers and their checkbooks are focused on.
As you may have heard, MSNBC has lately become the Jacksonville Jaguars of cable news. Just 20 months ago, it was coming off its best year — a year that featured a custom-made presidential matchup for its progressive hosts to dissect on a daily and nightly basis: A sitting black Democratic president versus a real-life Republican Gordon Gekko. Black vs. white. Rich vs. poor. Hell, women vs. (GOP) men. The script couldn't have written itself better for the "Lean Forward" network, who pushed these narratives hard all the way to election day.
A few months later (March 2013), MSNBC President Phil Griffin set his sights on the always-dominant Fox News, declaring his network will overtake first place in the cable news race by the end of that year. A bold, albeit completely unrealistic statement to make, at least that's what I wrote at the time. Instead, I cautioned Mr. Griffin that he might want to keep an eye on CNN sitting behind him instead…given the big changes promised by its then-new president Jeff Zucker and the Time Warner resources he would have at his disposal.
So in February of this year, Griffin gives Farrow — who hadn't even hosted a community access show before — his own program. The plan was to bring in a younger audience, so why not put him at 1:00 p.m. ET when just a shade over zero of Millennials are actually watching TV?
Griffin also placed Chris Hayes — who hosted a wonky, deep-dive-into-policy weekend morning program (Up with Chris Hayes) — into the most important timeslot on any network: 8:00 p.m. weeknights. Put politics and ideology aside and go back to the Lombardi quote on scorekeeping: The awkward Hayes has trouble breaking 100 in the demo lately, and this is during an election year with Senate control in the balance. For context, Bill O'Reilly did 556 on the last show he hosted. Anderson Cooper on CNN: 282. Hayes: 104. The following night (Thursday, October 9), Hayes dropped to a 75. My source also tells me Griffin is looking at the Hayes situation closely because of the effect his program is having on the rest of MSNBC's primetime lineup (and its biggest star, Rachel Maddow), but says Hayes and the show are safe for now.
Whether an even-lower-rated host (Ed Schultz, for example, who is getting beat anywhere from 5-to-1 to 9-to-1 by Fox in the demo at 5:00 PM) is also a cancellation candidate isn't known right now. What is clear is the score these days: According to Bill Carter of the New York Times in a damning piece over the weekend, "In the first quarter of 2009, MSNBC averaged 392,000 viewers in the 25-54 demographic for its weeknight lineup. In the third quarter of this year, the number is down to 125,000." The morning show (Morning Joe) — which created the most buzz of any offering on the network at one time — now trails CNN's New Day for the fifth straight month in the race for second.
Griffin says the network needs "to adjust; we've got to evolve." That usually means some hosts and programs go away. Question is: What is the bigger plan moving forward?
One idea on the adjust and evolve front is start covering hard news again. A 2013 Pew Research study indicates that 85 percent of MSNBC's programming is opinion, or 30 points higher than Fox and 39 points more than CNN. But as reported here, Griffin also said in 2013 that when it comes to breaking news, MSNBC "isn't the place for that" (having former pundits in anchor chairs for most of the day doesn't help on the breaking news front, either).
So can he unring that bell? And is NBC News — which is more noticeably absent from MSNBC lately — jump on board by providing the necessary resources when needed?
Another idea is to adapt more reality programming and documentaries into its schedule. It appears to be working at CNN, best evidenced by Anthony Bourdain's consistent ratings success and Mike Rowe's impressive second-place 507K debut in the demo last Wednesday night (particularly when compared to Megyn Kelly's 556 and Rachel Maddow's 143). Shark Tank seems to be the only thing working for CNBC these days, so perhaps tapping more reality resources like MSNBC does with the its highest-rated program, Lockup, isn't the worst plan in the world, either.
One has to wonder about Griffin's future with the network regardless of the changes coming down the pike.
The general manager in football (of any sport) is usually the first to go while being the last to know. Griffin drafted a good chunk of the players you currently seeing doing their best Jaguars imitation.
Either way, we'll get a taste of what the future of MSNBC may look like sooner rather than later.
— —
>> Follow Joe Concha on Twitter @JoeConchaTV
Have a tip we should know? tips@mediaite.com