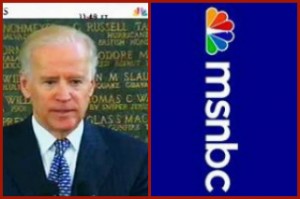 MSNBC's saga of high-profile video editing blunders continues, as earlier Friday host Thomas Roberts aired a clip of Vice President Joe Biden at a memorial service and plaque dedication for Americans who died in the attack last September in Benghazi. Thomas aired a portion of the clip in which Biden mentioned children pre-deceasing their parents, but Roberts claimed this was in the midst of remarks Biden made about gun control. The error forced an apology from MSNBC host Touré later in the day.
RELATED: MSNBC Host Thomas Roberts Asks: Is Dr. Ben Carson 'Just A Black Sarah Palin'?
During his speech at the State Department, Biden made the following remarks.
"No child should predecease their parents. I wish I could tell you we aren't going to add any more names with this wall. I wish I could say that with certainty, but the truth of the matter is, there will be more. There will be more."
Immediately after airing that, Roberts commented, "That was Vice President Biden just a short time ago talking about children as the victims of gun violence." The remarks were part of a speech remembering those Americans who died in Benghazi last year, as highlighted by The National Review.
Watch the edited video that aired on MSNBC, followed by the CSPAN version of the video, with more context added:
Later in the day, during The Cycle, Touré issued a formal apology on behalf of the network, saying the oversight was a "producer error." (Watch below):
h/t The Blaze
Have a tip we should know? tips@mediaite.com
Josh Feldman - Senior Editor