MSNBC Guest Blasts Snowden… For Not Saying Obama Is More Transparent Than Bush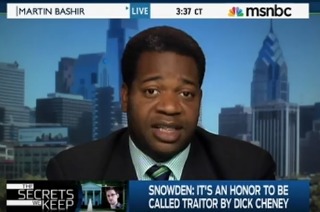 The panel guests on who joined MSNBC's Martin Bashir on Monday mocked the back and forth between former Vice President Dick Cheney and National Security Agency leaker Edward Snowden. One guest said that he wished Snowden had not criticized both the Bush and Obama administration's equally. He said that, even though the NSA leaks were not authorized, Snowden should note that the leaks and the national debate which have followed those leaks occurred in a more transparent environment than the one that prevailed during President George W. Bush's administration.

Bashir began by playing a clip of Cheney who told Fox News Channel anchor Chris Wallace that he believes Snowden is a "traitor."
Bashir's panel guests laughed at Cheney's temerity and noted that his credibility ratings in polls is too low for him to be "lecturing" President Barack Obama on trust issues.
RELATED: Dick Cheney To Chris Wallace: 'Traitor' Snowden Possibly Had Chinese Connection Before Leaking Info
Democratic strategist Angela Rye noted that Cheney accidently shot his friend in the face while on a hunting trip. "He supports the president – there's the friendly fire – but then he says that he's not credible," Rye noted.
Lehigh University professor of Africana Studies, James Peterson, said that "Dick Cheney doesn't have a lot of credibility in calling anyone a traitor."
"What Snowden should have said was, what would have happened to someone like him in the Bush administration?" Peterson asked. "The kind of transparency and the kind of conversation that we are having right now about these leaks and the ongoing, sort of, investigation, so on and so forth. Those kinds of things didn't happen in the Bush administration."
"I wish Snowden had been a little more insightful about what would have happened to someone like him in the Bush/Cheney administration," he concluded.
Watch the clip below via MSNBC:
> >Follow Noah Rothman (@NoahCRothman) on Twitter
Have a tip we should know? tips@mediaite.com