MSNBC Guest: Bundy's Comment Not That Different from What Conservative Pundits Say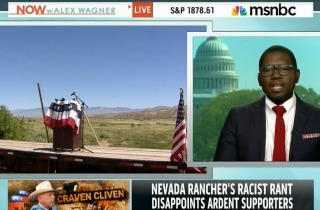 Appearing on MSNBC with Alex Wagner on Thursday, Slate staff writer Jamelle Bouie said that it is unclear why the racially insensitive comments made by Nevada rancher Cliven Bundy have inspired so many denunciations from conservative pundits. He said that Bundy's comments were not distinct from what conservative political pundits say about race on a regular basis.
Wagner began by reading a portion of Bundy's attempt to clarify his remarks in which he said that he was wondering if African-Americans are "happier now under this government subsidy system than they were when they were slaves."
"It reveals his assumptions are just saturated with racism," Bouie said of Bundy's clarification. "What Bundy was saying, wasn't that different from what you've heard from conservative pundits the world over."
"That slavery wasn't has bad for the black family as welfare has been, that African-Americans are stuck on the Democratic plantation getting addicted to food stamps, and welfare, and entitlements," the Slate writer continued. "Like I said, he just was not sophisticated enough to put it in those terms."
RELATED: Bundy Explains 'Negro' Remarks: 'I'm Wondering' If They're 'Better Off Being Slaves'
"Pro-Bundy conservatives need to consider the role that their movement has played in pushing this sort of rhetoric and these ideas into the public sphere," Bouie concluded.
Later in the segment, Bouie asserted that it was "impossible to disentangle the sort of radical anti-government, anti-statism of a lot of conservatives" from "its roots in slavery." He added that "there's this intellectual history and pedigree for modern conservatism that is tied to arguments that came out of white supremacy."
Watch the clip below via MSNBC:
[screengrab]
— —
>> Follow Noah Rothman (@NoahCRothman) on Twitter
Have a tip we should know? tips@mediaite.com