MSNBC Guest Compares Bill Clinton to 'Bunny-Boiler' Glenn Close in 'Fatal Attraction'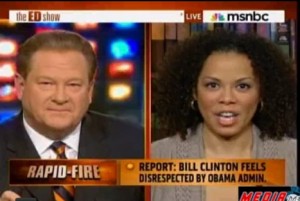 On Monday night's The Ed Show, host Ed Schultz discussed recent revelations that former President Bill Clinton felt "disrespected" by the Obama administration. Schultz and panel seemed to agree that Bubba needs to STFU, but one of his guests, conservative radio host Amy Holmes, put a finer point on it, comparing Clinton to Glenn Close's bunny-boiling Fatal Attraction character, who memorably insists, "I won't be ignored!"
The exchange is emblematic of liberals' mixed feelings about Clinton, who is loved for his winning ways (and personality), but not so much for his penchant for compromise.

The revelations at issue come in the epilogue to the just-released paperback version of Jonathan Alter's The Promise: (from HuffPo)
And Clinton's team was angry that former protégés like Rahm Emanuel didn't show the former president proper respect. After Clinton "worked like a nerd" to prepare a detailed 30-page memo on how to incentivize banks with loan guarantees to spur job creation, the White House ignored the memo for a few months, and then treated Clinton like a "prop" during Obama's meeting with CEOs. When a Clinton aide complained to Emanuel, "Are you serious?", the chief of staff replied that Clinton should be grateful he was on the president's schedule at all, writes Alter.
Citing President Obama's recent handover of the briefing room to Clinton as an act of generosity, Schultz and radio host Joe Madison seem to think Clinton ought to pipe down and know his place. In fairness to Clinton, he's being pilloried for "going public" with his criticism, but Alter's quotes are all on background, and while the attribution certainly resembles an "authorized leak," technically, he didn't "go public."
Like it or not, though, former President Clinton has more than proven his worth to the Obama administration, so whether or not his hurt feelings are legit, Team Obama would do well to keep him on their side. Put a gold star on his memo, or whatever. With enemies like these, who needs frenemies?
Here's the clip, from MSNBC:
Have a tip we should know? tips@mediaite.com