MSNBC Guest: If CT Mass Shooter Was Not White, Public Debate Would Be 'Much Uglier'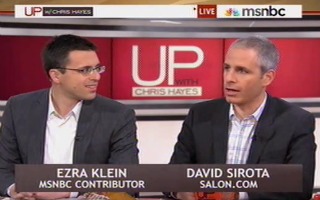 David Sirota, a columnist for Salon.com, appeared on Up with Chris Hayes on Sunday for a discussion about the possible policy recommendations that could be adopted in the wake of the mass shooting at a Connecticut elementary school which may prevent future shootings. When the question of profiling came up, Sirota insisted that the perpetrators of these kinds of crimes are most often white men – the only group in America that is "not allowed to be profiled." Sirota said, if the shooter was any race other than white, the debate over policy measures to prevent these types of events in the future would have been "uglier."

RELATED: ABC News Posts First Photo Of Suspected CT Shooter Adam Lanza, Circa 2005
Hayes said the thought that policy makers in Washington will be moved to do something about this tragedy. He said he could envision lawmakers calling for a more invasive surveillance regime.
Sirota agreed, but said that the political impediment to that was the fact that most mass shooting suspects are white.
"The issue with it will be, politically, I think; the profile is white men," Sirota said. "That's a profile that's not, essentially, in America allowed to be profiled. That's the one profile in America that's not allowed to be profiled."
Sirota said that he thought that, if the shooter belonged to a different demographic, the debate about how to address this mass shooting would be "much uglier." Hayes agreed.
Sirota closed by wondering if the Republican party would have the same reaction to this event and policy recommendations to address it as they did to a report by the Department of Homeland Security raising question about the threats posed by right-wing militias. "Republicans said, 'this is a way to demonize white America' or 'good, god-fearing America," Sirota said.
Watch the clip below via MSNBC:
> >Follow Noah Rothman (@Noah_C_Rothman) on Twitter
Have a tip we should know? tips@mediaite.com