MSNBC Guest: McConnell 'Screwed' In KY If He Fires Popular Campaign Manager Who Spoke Ill Of Him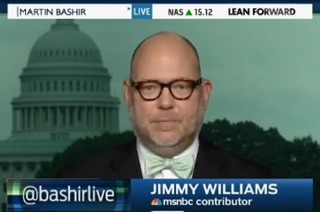 On Thursday, bombshell audio of Sen. Mitch McConnell's (R-KY) campaign manager, former Rep. Ron Paul's (R-TX) presidential campaign chair Jesse Benton, disparaging the candidate he works for reset the Kentucky Senate race. MSNBC contributor and veteran Southern politico, Jimmy Williams, told MSNBC host Martin Bashir on Thursday that McConnell is in a tough position. Benton's closeness to the Paul family and Sen. Rand Paul's (R-KY) popularity in McConnell's home state makes it difficult, if not impossible, for the Senate Minority Leader to let Benton go.

First reported in the Economic Policy Journal, Benton was recorded saying that he was "holding" his "nose" and was merely killing time working for McConnell's campaign until Paul comes up for reelection in 2016.
RELATED: Mitch McConnell's Campaign Manager Caught On Tape: 'I'm Holding My Nose' Until Rand Paul 2016 Run
Williams said that the unpopular McConnell, facing a tough reelection campaign and a primary challenge from the right, cannot fire Benton without further alienating his conservative base.
"If I'm Mitch McConnell and this is the guy running my campaign, I'm going to walk in a room and look and say, 'wait a minute," Williams said. "'I'm supposed to trust you with my reelect; especially when my numbers are in the tank if not below my Democratic opponent?'"
"If McConnell fires Jesse Benton, he's screwed in Kentucky," Williams added. "Especially with the tea party folks."
"He can't do anything about the fact that his campaign manager thinks he sucks," the MSNBC contributor concluded.
Watch the clip below via MSNBC:
> >Follow Noah Rothman (@NoahCRothman) on Twitter
Have a tip we should know? tips@mediaite.com