MSNBC Guest: Mitt Romney Could End Up Withdrawing From GOP Race Before Convention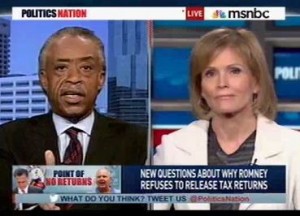 On his MSNBC show today, Al Sharpton opened by focusing on Mitt Romney's tax returns and increasing pressure from Republicans and conservatives for the GOP candidate to release more of them. Guest Catherine Crier said that it is certainly fair to look into that aspect of Romney's background, and even threw out the notion that Romney might withdraw as the Republican nominee before the convention.


RELATED: Romney Surrogate On Releasing More Taxes: Romney 'Has Gone Above And Beyond What Is Required Of Him'
Sharpton argued that Romney has, all along, been encouraging people to look into his business background because he wants voters to see him as a successful businessman and a job creator, but as soon as people started looking at his background, he made it clear he wanted the scrutiny to only go back so far.
Crier pointed out that in 1994, when Romney ran against Ted Kennedy for his Senate seat, Romney did not release his returns, despite the precedent set by his father. She said that it is completely fair to scrutinize Romney's history of job creation when he puts that forth as one of the reasons people should vote for him. Then, talking about what the implications of releasing or not releasing the returns would be, Crier mentioned she read an article today saying Romney might have to withdraw before the convention.
She didn't mention which piece it was, but it was likely this post on The Huffington Post by Paul Abrams, who made this argument against Romney if the returns come out and reveal that the candidate took advantage of a 2009 IRS amnesty program.
No one who has received amnesty for a serious crime, such as tax evasion, can be president. One would think that someone for whom the clear implications are that he has received amnesty, but will not release exculpatory documents, also cannot be president.
Watch the video below, courtesy of MSNBC:
—–
Follow Josh Feldman on Twitter: @feldmaniac
Have a tip we should know? tips@mediaite.com
Josh Feldman - Senior Editor