MSNBC Guest: No, It Wasn't 'Feminist' for Michelle Obama to Skip Wearing Hijab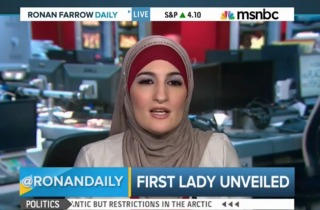 First Lady Michelle Obama made a lot of headlines Tuesday when she arrived in Saudi Arabia without wearing the headscarf normally required of Saudi women.
The scarf-less appearance has garnered praise from unexpected places. Staunchly conservative Sen. Ted Cruz (R-TX) tweeted his "kudos" to Obama for "standing up for women" by "refusing to wear Sharia-mandated head-scarf."

But Arab American Association of New York director Linda Sarsour thinks that it would be unfair to characterize the First Lady's appearance as a statement of feminism. Speaking with MSNBC's Ronan Farrow on Wednesday afternoon, she made that point quite clear:
As you can see, I wear hijab. It is a choice for me to wear and cover my hair for religious observation; and I consider myself to be a feminist and someone who supports the upholding of all rights, specifically of women. So this conversation we're having needs to be more about not obsessing over Michelle Obama wearing a headscarf or not wearing a headscarf — which she is not mandated to do or required in a place like Saudi Arabia, specifically in Jeddah. Also, she is wearing modest clothing, but she was not at a mosque, so she wasn't required to wear it. But this conversation about, oh, she was standing up for women for not wearing hijab, what about women who do wear hijab, and who choose to wear hijab? I'm very proud of my religion, and my faith, and I'm very proud of the hijab that I wear.
Sarsour also clarified for Farrow that Obama's actions were not any sort of "breach" of dignitary standards:
She was advised by both folks on the Saudi side and the American side that she dressed modestly, as she did. And I think this is not the first time that our First Lady has been criticized for supposedly breaching some sort of protocol with dignitaries and royal families like she did in England when she slightly put her hand on the back of Queen Elizabeth. Again, we need to be focusing on much larger issues in places like Saudi Arabia, or women's rights, or human rights in general, than worrying about what our First Lady is wearing going to India or to Saudi Arabia.
Watch the clip below, via MSNBC:
[h/t Grabien]
[Image via MSNBC/screengrab]
— —
>> Follow Andrew Kirell (@AndrewKirell) on Twitter
Have a tip we should know? tips@mediaite.com