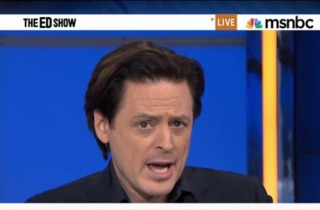 According to actor and Sirius XM radio host John Fugelsang, it's time to "thump the Bible thumpers with the Bible" over Indiana's new Religious Freedom Restoration Act, which he says is "un-Christian."
Supporters say the act, signed into law by Gov. Mike Pence (R), is meant to protect the state's business owners from being forced to act in any way that is contrary to their religious beliefs. But critics say the law opens the doors to anti-LGBT discrimination. The law has drawn the ire of everyone from Miley Cyrus to Apple CEO Tim Cook, former Secretary of State Hillary Clinton, actor Ashton Kutcher, the city of San Francisco, the NCAA, former NBA star Charles Barkley, and popular customer review website Angie's List.
"I'm waiting for the media to jump on about how this is un-Christian," Fugelsang told Ed Schultz. "It's time to thump the Bible thumpers with the Bible. If you want to have a government based on Christian values, that means you take care of the poor, you take care of the sick, you don't start fights with people, you're kind to those in jail, and you let private charities have a bake sale to bail out Wall Street."
Elsewhere in the segment, Fugelsang alluded to Pence as a "fake Christian bigot," and said denying service to gay people is not justified anywhere in the Bible. He concluded by saying that "Christianity is not cover for bigotry," adding it's the job of Christians to love gay people, not judge them.
Watch the video below, via MSNBC:
[h/t Grabien]
[Image via screengrab]
— —
>>Follow Andrew Desiderio (@forza_desiderio) on Twitter
Have a tip we should know? tips@mediaite.com