MSNBC Guest on Liz Cheney: Opposing Sister's Marriage Makes Her 'Infinitely Less Appealing as Human Being'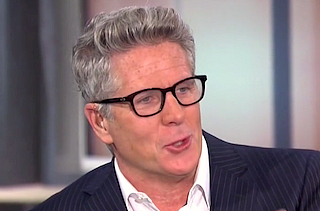 A Morning Joe panel Tuesday morning discussed the Cheney family feud that has erupted into the public sphere in the past few days, wondering if Wyoming senatorial candidate Liz Cheney traded personal likability for political leverage by opposing same-sex marriage in a way that so visibly angered her sister Mary Cheney.
"Liz's greatest vulnerability in her Senate run is this charge of political calculation, this charge that she picked Wyoming on a map, set out there to unseat a popular conservative Republican," former Bush communications director Nicolle Wallace said. "So I think that what happened was something political, not personal, that may have inspired this statement."
Liz Cheney publicly stated her opposition to same-sex marriage on Fox News Sunday this weekend, earning Facebook rebukes from her sister and wife Heather Poe. The Cheney parents weighed in on Monday.
"You mentioned the word personal," guest Donny Deutsch said. "I believe that at the end of the day, voters vote for who they like best. Say what you want—when you have a sibling who's living a life a certain way, and they're happy and they have children, and you still come out on the other side, wherever you are politically, you just kind of go, 'Wow!'"
"You look at Rob Portman," Wallace began, referring to the junior Senator from Ohio who changed his position on gay marriage after his son came out. "It's not liability in the Republican party to say I have a personal—"
"It makes you infinitely less appealing as a human being," Deutsch said. "Forget where stand on the issue itself, when you line up against your family member…"
Watch the full clip below, via MSNBC:
[Image via screengrab]
——
>> Follow Evan McMurry (@evanmcmurry) on Twitter
Have a tip we should know? [email protected]