MSNBC Guest Praises Naked Boehner Protesters For 'Raising The Real Issues Of Humanity'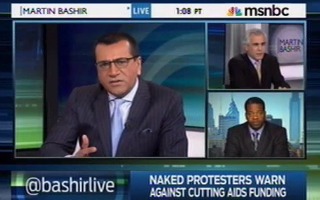 On Tuesday, House Speaker Rep. John Boehner's office on Capitol Hill became the subject of a siege by seven nude protesters demanding that Republican leaders back off their insistence that the federal budget be reduced in exchange for an increase in income tax rates for high wage earners. The unclothed protesters were demanding that funding for AIDS not be slashed – a demand that addresses a topic on the minds of few in Washington but the protesters themselves. When the subject came up with MSNBC host Martin Bashir on Tuesday, Lehigh Valley University Professor Dr. James Peterson praised the protesters for "raising the real issues of humanity."

RELATED: Naked Protesters Storm Speaker John Boehner's Office
"These protesters are raising the real issues of humanity," Peterson said when shown the images of the exposed agitators. "We need to have more humanity in these discourses."
Peterson said that sequestration's sharp, automatic reduction to military funding are less harmful to average Americans than its equally sharp and automatic cuts to entitlement programs. "They're just not equal," Peterson said in praise of the message, if not the tactics, of the naked protesters.
"All of us agree that when people talk about Medicare and Social Security, they do it with a callousness which is unconscionable," Bashir opined.
Neither guest showed so much concern for the "callousness" with which they discussed the cuts to the military budget, which have already resulted in significant layoffs in the American defense sector.
Nor did they concern themselves with the millions of oppressed people around the globe for whom the American military represents their only guarantee of safe shipping lanes, the freedom from the worry that the neighboring country will mount a cross-border invasion tomorrow, or that a hostile dictator in a remote capitol will seek to mortar their agitated province out of existence.
Those were "the real issues of humanity" when a Democratic president needed political support for an air war over Libya. Today? Not so much.
Watch the clip below via MSNBC:
> >Follow Noah Rothman (@Noah_C_Rothman) on Twitter
This is an opinion piece. The views expressed in this article are those of just the author.