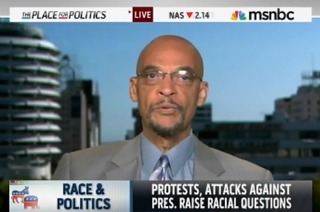 Progressive radio host and frequent MSNBC guest, Earl Ofari Hutchinson, appeared on MSNBC with Thomas Roberts on Tuesday where he dug into Republican efforts to deflect criticism that state-level voter identification laws are designed to disenfranchise minority voters. Hutchinson said that racially insensitive attacks on President Barack Obama appeal to the GOP's base voters, personified by a rodeo clown who was recently criticized for wearing an Obama mask.

"The relentless racial assault on Obama has been the one unyielding constant from the moment that Obama declared his presidential candidacy in 2007," Hutchinson recently wrote on his blog.
Asked to expand on that theme on MSNBC, Hutchinson said that the Republican National Committee's effort at rebranding in the wake of the GOP's 2012 loss was undone by a "groundswell" of opposition among Republican base voters.
He said that it is clear that the GOP's rebranding effort has "died a stillborn death" and that shows that the Republican Party was always insincere about their stated plan to reach out to minority voters.
RELATED: Al Sharpton Radio Show Guest: O'Reilly, Hannity, Don Lemon 'Professional Assassins Of African-Americans'
The GOP is looking over their shoulder and they know this," Hutchinson opined, "they know the protesters at — were in Phoenix, they were in Orlando. All of that, and also the clown at the Missouri state fair, even though it seems outrageous and ridiculous and ludicrous, they understand one thing: that's their base. That's their rank and file."
Hutchinson recently appeared on Al Sharpton's radio program where he called Fox News Channel hosts Bill O'Reilly and Sean Hannity, as well as CNN anchor Don Lemon, "professional assassins of African-Americans."
Watch the clip below via MSNBC:
> >Follow Noah Rothman (@NoahCRothman) on Twitter
Have a tip we should know? tips@mediaite.com