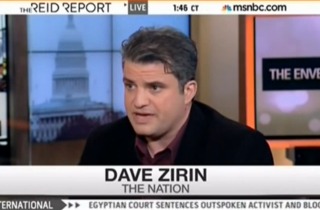 Things turned pretty awkward on MSNBC's recently-canceled The Reid Report on Monday. Host Joy Reid was leading a panel discussion about Sunday night's Oscar Awards when Dave Zirin of The Nation mentioned the show's shortcoming on-air. The panel was discussing the lack of diversity at Sunday night's Oscar Awards.
"I feel like I want to say, in this uncomfortable space — and I'm sorry if this is rude or anything — but how disappointed I am at MSNBC that this show is not gonna be on the air," Zirin said in the clip flagged by Grabien. "I think it's a horrible blow for people who love you and love your show, and look at you and think to themselves, 'gee, maybe I don't have to be a lying thug like Bill O'Reilly to get my own show. I can be a kind, good person and achieve on that basis.'"
Zirin added he think Reid will be "fine" in the long run, but said he "weeps" for people who look up to her. In response, Reid thanked Zirin, calling him a "true friend," but quickly diverted the conversation back to another panelist.
Along with axing Reid's show, as Mediaite reported last week, MSNBC also canceled Ronan Farrow's show following poor ratings. Mediaite's Joe Concha opined that firing Reid and Farrow will do little to help the network; instead, he wrote, a better solution is to fire its boss, Phil Griffin.
Watch the video below, via MSNBC:
[Image via MSNBC/screengrab]
— —
>>Follow Andrew Desiderio (@forza_desiderio) on Twitter
Have a tip we should know? tips@mediaite.com