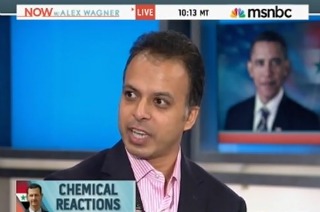 On Monday, a guest on MSNBC's Now cautioned the United States against intervention in the Syrian civil war where chemical weapons have been allegedly used against civilians. He said that, while it is likely that chemical weapon were used, there is no proof that the war can be stopped or that chemical weapons were used by President Bashar al-Assad at all.

RELATED: Media Becoming Repulsed by Obama Ignoring Own 'Red Line,' Permitting Syrian Holocaust
The Council on Foreign Relations' Ed Husain warned that Americans are now contemplating an intervention which would not halt the civil war because none are advocating for boots on the ground to physically separate the two warring sides.
Further, Husain notes, there is no reason why Assad would logically calculate that he benefits from using chemical weapons. That is why, in his opinion, the statements of the Syrian government denying that they used chemical weapons are credible.
"Why would Assad want to use chemical weapons in the northeastern suburb of Damascus, under his control, to kill only — forgive me for being so cold — about 1,000 people where as he's killed 5,000 people every month for the last 16 months without using chemical weapons," Husain said.
"We still don't know who committed the atrocity, and unless we have the full facts we're going to be doing a repeat of Iraq, blowing threats out of all proportion, and talking about weapons of mass destruction and not knowing where the chemical facilities are and then putting U.S. blood and treasure at risk once again," Husain concluded.
Watch the clip below via MSNBC:
—
> >Follow Noah Rothman (@NoahCRothman) on Twitter
Have a tip we should know? tips@mediaite.com