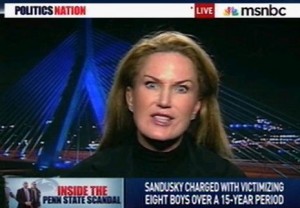 On Thursday, former child abuse and sex crimes prosecutor Wendy Murphy visited Al Sharpton's show to weigh in on the case against former Penn State assistant coach Jerry Sandusky.
Remarking on the court's failure to prosecute Sandusky in 1998 after he admitted to having showered with a young boy, Murphy noted that Pennsylvania considers it "child sexual exploitation" to shower naked with a child and that Penn State's clout interfered with the court's ability to properly seek justice for the young boys Sandusky victimized over a 15 year period. As Murphy continued listing Sandusky's crimes against children, her voice grew higher and louder, her anger and frustration palpable. At one point, she referred to the school as "Perp State" university not only for its repeated failure to appropriately report and deal with Sandusky's criminal behavior, but for actually protecting a rapist:
RELATED: Mediaite's Tommy Christopher: Penn State Scandal Is 'A Crime Against Humanity'
People at Penn State — ooo, I mean, PERP STATE — university knew what he was doing; he had a pattern. And they covered it up because they care more about their damn reputation and scandal and money and damn football than they care about little boys being anally and orally raped over and over again!

Penn State should shut its damn doors, if you ask me. They should hang their heads in shame.
Well. This is one case where anger on an evening is very much warranted. Also: Kudos to Murphy for referring to these crimes as rape and not a "sex scandal."
Have a look, via MSNBC:
Have a tip we should know? tips@mediaite.com