MSNBC Guests Clash Over Whether Obama Scandals Will 'Galvanize' Tea Party, Lead To 'More Extremist Candidates'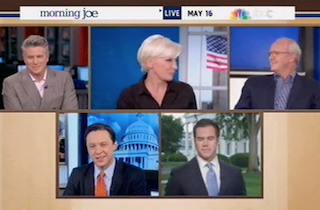 The Morning Joe roundtable on Thursday sought to examine how the recent troubles the White House is wading through will play out in the future. Looking particularly to 2014, the guests questioned whether Benghazi, IRS, DOJ/AP problems will stick. While they appeared to agree the IRS scandal is problematic — the point about a galvanized Tea Party stirred some disagreement.
Pointing to the IRS issue, Willie Geist argued, "2014, if you think Republicans aren't going to use this as confirmation that big government is out to get you, you're wrong."
Donny Deutsch wasn't entirely buying it — because the wrongdoing went back to "a couple rogue guys" and "doesn't go up to the president." To that point, Mika Brzezinski countered that there's plenty of crazy talk when the president's opponents are "clinging to nothing." And here, they have ammunition.
"Basically what it is going to do, it's going to force, in the primaries, to galvanize the Tea Party. You're going to get more extremist candidates," Deutsch predicted. "They'll lose in general election. Come general election time, if somebody voted against background checks for guns, if somebody is still doing the crazy, crazy, crazy social issues, I disagree with you."
"You're dismissing that scandal," Geist pressed, "but aren't you viscerally offended and upset by a government agency singling out Americans?"
Deutsch said he was, but that, again, it was caused by "a few idiots" — and Americans are "sophisticated enough" to know that.
Take a look, via MSNBC:

Have a tip we should know? tips@mediaite.com