MSNBC Guests Compare Obamacare Rollout to Iraq War, Katrina: 'Not a Whiff of Leadership'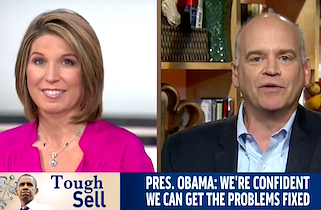 Former George W Bush communications director Nicolle Wallace and National Journal columnist Ron Fournier critiqued President Barack Obama's spectator-like handling of the Affordable Care Act rollout on Tuesday's Morning Joe, alternately comparing it to the Bush administration's handling of the Iraq War and Hurricane Katrina.
"I think that the statement 'No one is madder than me' is what sticks in a lot of people's craw," Wallace said. "The notion he's sitting and watching from the residence of the White House and says, 'Oh, gosh, that didn't go well' just rings really strange to people. He should have been in the command and control post, making sure that everything was in order. Should he have been running his own simulation and testing of the site? Obviously not. But should he have made sure that his signature domestic achievement was rolled out smoothly? And did he have plenty of time, thanks to Republicans, who were running a goat rodeo?"
What's a goat rodeo, you ask? "It's a term we actually used all the time in the Bush White House, because we ran many of them," Wallace explained. "But Obama, to continue to speak about the actions of his administration as a guy with a great seat but no responsibility, is totally off-putting, and it does not have a whiff of leadership to it."
"Just like Katrina, when the big problem President Bush had was diminishing the significance of what was happening, saying 'Hey, way to go, Brownie,'—you had the president yesterday talking about glitches and kinks. This is bigger than glitches and kinks," Fournier said.
"The one difference was Katrina was a storm, the health care law was Obama's creation," Wallace demurred. "I'm not defending my White House's handling of Katrina, but it was a natural disaster. This was a disaster of Obama's creation and imagination."
"Maybe the Iraq War is a better analogy," Fournier said.
Watch the clip below, via MSNBC:
[Image via screengrab]
——
>> Follow Evan McMurry (@evanmcmurry) on Twitter
Have a tip we should know? tips@mediaite.com