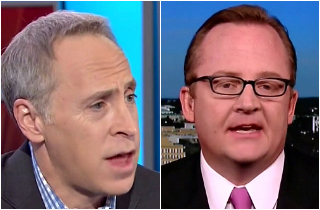 Following President Barack Obama's Rose Garden speech on the troubled rollout of the Affordable Care Act's website exchanges, an MSNBC panel on Now With Alex Wagner chastised the Obama administration for its "cascade of bad decisions" that led to the malfunctioning websites, especially as Obama had raised hopes as a technologically-savvy president.
"The whole thing it wasn't just one bad decision," Slate's Jacob Weisberg said. "It was architected wrong. There was clearly nobody in charge of this process who could manage it. But this is a huge, complicated, difficult process, and I guess I'm disappointed that someone who had pretenses of being the first tech president didn't have his head wrapped around it enough to take those problems on. Even the president should have known that you beta test a piece of software like this."
RELATED: MSNBC Panel Denounces 'Secrecy,' 'Lies' of Obamacare Rollout: 'It's Almost Criminal'
Former White House Press Secretary Robert Gibbs contrasted the unwieldy website operation run by the White House to the more dynamic online operations that were centerpieces of Obama's two presidential campaigns.
"One of the reasons the technology worked so well in the campaign and may not work so well here is we didn't outsource the campaign technology to the lowest bidder," Gibbs said.
"There should be a tech surge," he continued. "There should be not just the best and the brightest in Washington, but the best and the brightest from Silicon Valley who make this work every single day…Those people should be brought in to do triage, to get this system working, because we don't have an option. This really is Ed Harris in Apollo 13: failure isn't an option. The website can't stop. We have to fix it as we're doing this enrollment. It all has to be simultaneous, which is going to require a lot of really smart people in the room working on this twenty-four hours a day."
Watch the full clip below, via MSNBC:
[Image via screengrab]
——
>> Follow Evan McMurry (@evanmcmurry) on Twitter
Have a tip we should know? tips@mediaite.com